Introducing Autumn! If you are looking for a single cat to be your one and only, this beauty is your gal. She is the perfect cat; a very easy keeper. Her only vice is that Autumn does not like other animals, so she needs to be the only pet in the home.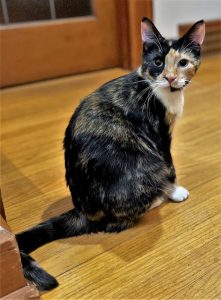 Autumn first came to us from another rescue after being abandoned in a field with her kittens. She was thin and dirty, but had done a good job of caring for her babies. They have since been adopted, and now that Autumn has been spayed, it's her time to shine. The vet has estimated her at 2 years old.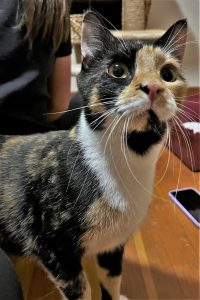 Autumn's foster family says that she is the most loving and snuggly cat they have ever had. She loves following them around, curious about all that is going on in the home. She is very social and curious with new people too; she allways looking to say hi and get some pets! She purrs a lot, and seems very content with life. Autumn is low energy but will play with toys when she's in the mood. Typically though, she prefers hanging with the humans on their laps or at their side. Autumn sits at her foster dad's side while he works, and will jump up onto his lap whenever she desires a snuggle. She's very respectful of the home; she doesn't knock things over, jump on counters or scratch furniture. She would be great for a family that has a human(s) around lots of the day.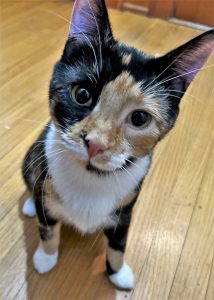 If you have a quiet, comfortable home and would love some company, Autumn might be perfect for you. Please visit https://victoriapets.ca/adoption-process/ to find out how to adopt.