Toothless (aka Toofy), Tuffnut (aka Tuffy), and their mom, Valka, are a really special trio of cats and we're looking for the perfect home for them. Valka spent most of her short life living on her own, fending for herself as a stray. This past summer she had 3 kittens and when they were quite young they became ill and one of the kittens sadly passed away. We were able to catch the family shortly thereafter and have nursed them back to health. This family is so bonded to one another that we would really love to see them stay together long-term.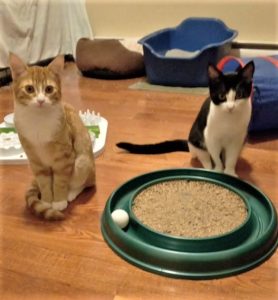 Toofy & Tuffy were born as feral kittens and have come a very long way since then, but they need to find just the right home to help them thrive and continue on with their socialization. Valka is a domestic cat but she obviously has significant trauma from the experiences that she's had and it takes her a really long time to learn how to trust new people. It will take a very special person to give this trio the right home, but if you are an experienced cat-caregiver and are comfortable working with under-socialized cats, we'd love to hear from you.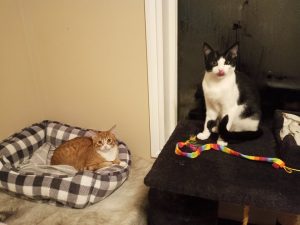 Toofy is the black & white kitten and he was the more curious and forward of the two brothers at first. He may be the smaller of the two, but Toofy was the first one to be brave enough to accept attention and handling from his foster mom. The key to this boy's heart is through food, but he can be a bit pushy for his food too so you have to find a balance. If he knows that you have food for him he gets grabby. Once Toofy trusts you, he is sweet and follows you around asking for attention. He has a wonderful purr and is a real gentleman.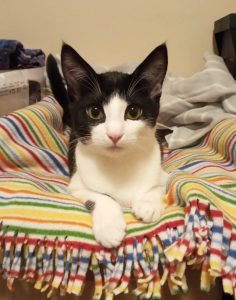 Tuffy (orange) is the more dominant of the two kittens once he's settled in, but he started out much less brave than his brother and it took a long time for his confidence to build. When he first arrived he would hiss, spit, and strike at his foster mom (out of fear) if she got too close. She spent a long time building his trust and Tuffy is actually quite pushy now and barges his way to the front of the line to get attention. He is now the more forward and friendly of the two kittens and really just craves attention. Like his brother, he does sometimes give love-nips when he gets over-stimulated during a cuddle session. Tuffy will purr, and rub, and roll around to get attention but every few pets he gets a bit over-stimulated and he will nip at his foster mom. She will take a very brief time out from petting him and then go right back to it until Tuffy starts to get over-stimulated again. He is learning quickly and does understand the word 'no' but it's important for his new owner to have a good handle on how to read Tuffy's body language and have experience working with under-socialized cats. These two boys are food motivated, which makes them a bit easier to work with.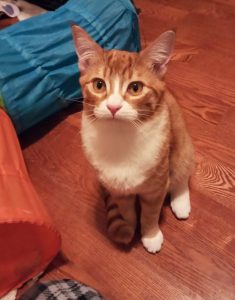 Valka takes a lot longer than her boys do to trust a new person and will definitely spend a lot of time hiding when she goes to her new home. She really needs someone to give her space and let her come out of her shell at her own pace. Valka really follows the lead of her boys so once they start to trust someone and interact with them, she starts to trust as well. Once she trusts you, she will rub on you, purr, and interact gently.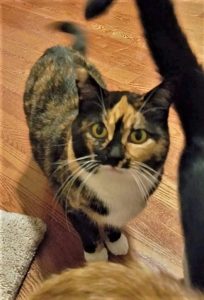 This trio will do well in the right home. They have the potential to become the best little companions but it is going to take them some time to get used to a new home and develop trust with a new person (or people.) It took their current foster mom several months before any of them would allow handling.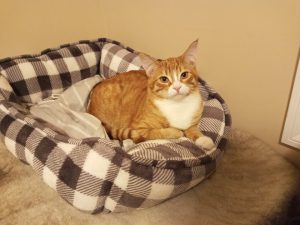 They are afraid of dogs because before they came into our care they were in an environment where they were regularly chased by aggressive dogs. They have been around other cats and are OK with them as long as the other cats are nice to them. It is very important that they go to an adult-only home; they cannot be around children.
If you are interested in this trio, please visit https://victoriapets.ca/adoption-process/ to learn about our adoption process and to find a copy of our adoption application. We'd love to hear about your home and previous experience with under-socialized cats. Please note that this trio is only available for adoption to those living on southern Vancouver Island or the Gulf Islands.