This gorgeous kitty is Willow and she's hoping to find a wonderful home with a dedicated, patient person, and where there are other kitties to play with. She would also do well in a home with her sister, Buffy, although they can go to different homes if the right family can't be found for both of them.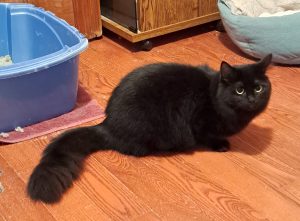 Willow & Buffy were originally found as feral kittens living all alone in the woods. They were taken in by a caring, young man who wanted to give them a good life. He gave them a great home but wasn't familiar with how to socialize feral kitties, so they didn't get much physical interaction while they were growing. They came into our care when they were about 7-8 months old, and while they have made great strides, they still have a ways to go before they are social.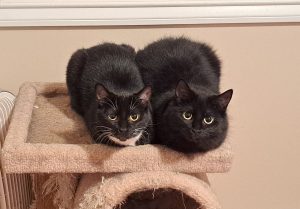 Despite the chronic 'stink face' that Willow likes to sport, she is the more social of the two. She's really close to bonding with someone. She just needs to find the right person to help her. Willow is funny, and chatty, and interactive. She is very happy to sit near you, or on a nearby spot from which she can watch you, but she's not ready to cuddle yet. Willow has the potential to be a really great companion once she's gets comfortable.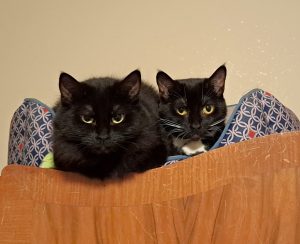 They two keys to Willow's heart are play and food. She is very playful and just loves to chase toys like balls and springs. She also really loves to chase her string toys (Da Bird is her fav) around and will often grab the toys and play keep away with the other cats. She also really loves food and will do almost anything for it. In fact, sometimes when it comes to high-value food and treats, she can be a bit grabby. If Willow is eating, she will begrudgingly allow pets. It's not her favourite thing, but she will put up with affection in order to get food. The combo of food and play will be the key to bonding with this girl. In fact, Willow enjoys food so much that it will be important for her to be meal-fed (not free-fed) and perhaps away from other pets in the home so that she doesn't hoover her food.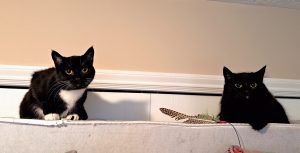 Willow gets along really well with the other cats in her foster home and very quickly makes friends with anyone new. It will be important for her to have other cats in her home to help her settle in and to play with her. She gets along very well with her sister, Buffy (see photos), and would be happy to be adopted into the same home. For more info on Buffy, please see her separate bio.
If you'd like to inquire about Willow, please visit https://victoriapets.ca/adoption-process/ for info about our adoption process and to find a copy of our online adoption application.