Meet S'mores. This funny guy is looking for a special home that will help him thrive. He originally came to us as a feral kitten so S'mores has been very shy right from the start. He was living in the woods all alone when he was only about 8 weeks old so he learned to become leery of strange things. It was a survival mechanism for him at the time, but now that he's in care, this instinct makes S'mores shy around people. He is very comfortable living in a home, and he enjoys the company of other pets, but at this time, he is not comfortable being touched by people. He is still young (just under a year) so there is lots of opportunity for him to settle into a new home and eventually become more social. However, it is difficult to predict whether he will ever be comfortable being pet, picked up, or cuddled.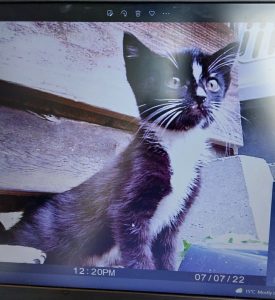 The perfect 'job' for S'mores, is being a companion for another lonely pet (or pets.) He gets along well with the other cats in his foster home, and he likes to push the dogs around. He is cheeky, funny, and very playful. He loves to steal things that belongs to his foster mom and tries to make toys out of them. He likes to eat the dogs' food, and be involved in everything he can (like cleaning out the fridge or organizing the bookshelf.) When he's hanging out in his foster home, S'mores is confident, playful, and sassy. He loves to play with toys, and wrestle with the other pets.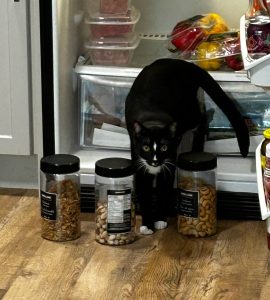 The one area where S'mores is not confident is being handled by people. If you're sitting down he will sit near you, or in some close place where he can watch you. You can go about your daily business and he'll supervise you. However, if you move toward him as if to pet him or pick him up, S'mores will run just out of arm's reach. We're not sure if he'll ever become a cat that's social with humans, but he's great with other animals, so we'd like to see him find another young cat that he can be friends with and who will play with him. He may not be a good match for an older, quieter cat because he really does like to play & wrestle. A young, playful cat would be best.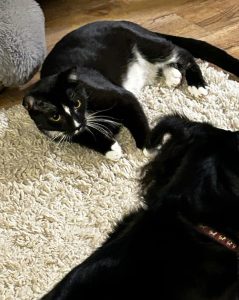 Since they can move quickly and make loud sounds, S'mores will not be comfortable around children. An adult-only home with an experienced cat owner is a must for this boy.
To learn more about S'mores, pleases contact us at victoriapets@gmail.com or complete an adoption application online and tell us about your experience with under-socialized cats.