Meet Purrsey. He and his sister were born in one of our foster homes to a pregnant cat that was rescued and have been well socialized from the time they were small. They are friendly, affectionate, and playful as most kittens are, but they're also sweet and gentle. These guys will do best in an adult home or perhaps with older teens that are low-energy. They still love to wrestle with each other and to play, but they settle down really well for snuggles once they've warn themselves out. They will each do well in a home where there is another cat to be-friend them, or where they can be adopted together.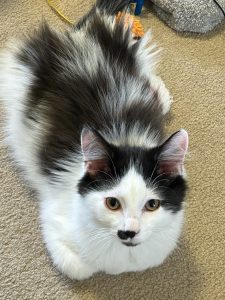 Both of these kittens have been around other cats in the past but they have never met a dog. We think that they will do best in a quiet home without other pets, or perhaps where there is another friendly, lower-energy cat to welcome them.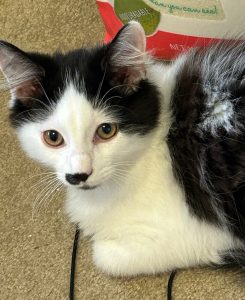 This pair has incredibly fluffy fur and is going to need a family that is willing to keep up with very regular grooming. They will both be prone to matting if their soft coats aren't brushed with a proper comb / undercoat rake a few times a week. Their fur is so fine that it will likely cause issue for anyone who has a sensitivity or allergy to cats.
If you would like to adopt Samantha and/or Purrsey, please visit https://victoriapets.ca/adoption-process/ for our online application.