Meet Rufio. This incredibly handsome boy came to us from a hoarding situation. He was about 6 months old when he was rescued, and unfortunately, he didn't receive individual handling during the critical socialization period. While this big guy is gorgeous and draws everyone's attention, he is not the right fit for every home. He needs a family that is very cat-experienced and will help him continue on his socialization journey.
Finding the right home for Rufio will be important. He has really great potential to bond with someone that he clicks with, but it is going to take dedication, patience, and the right environment for that to happen. At this time, Rufio is not human-social and is not comfortable being handled by people. He is very nervous of loud sounds and fast movements, but Rufio really finds a lot of comfort in other cats. Therefore, he needs a calm/quiet, cat-experienced home with other cats that want to be his friends. Despite Rufio's young age, he's more of a cuddler than a player when it comes to how he interacts with other cats, so a home with older cats would be OK for him. He is currently in a foster home with several other adoptable cats and would be happy to be adopted along with some of them if his potential adopter does not have other cats currently.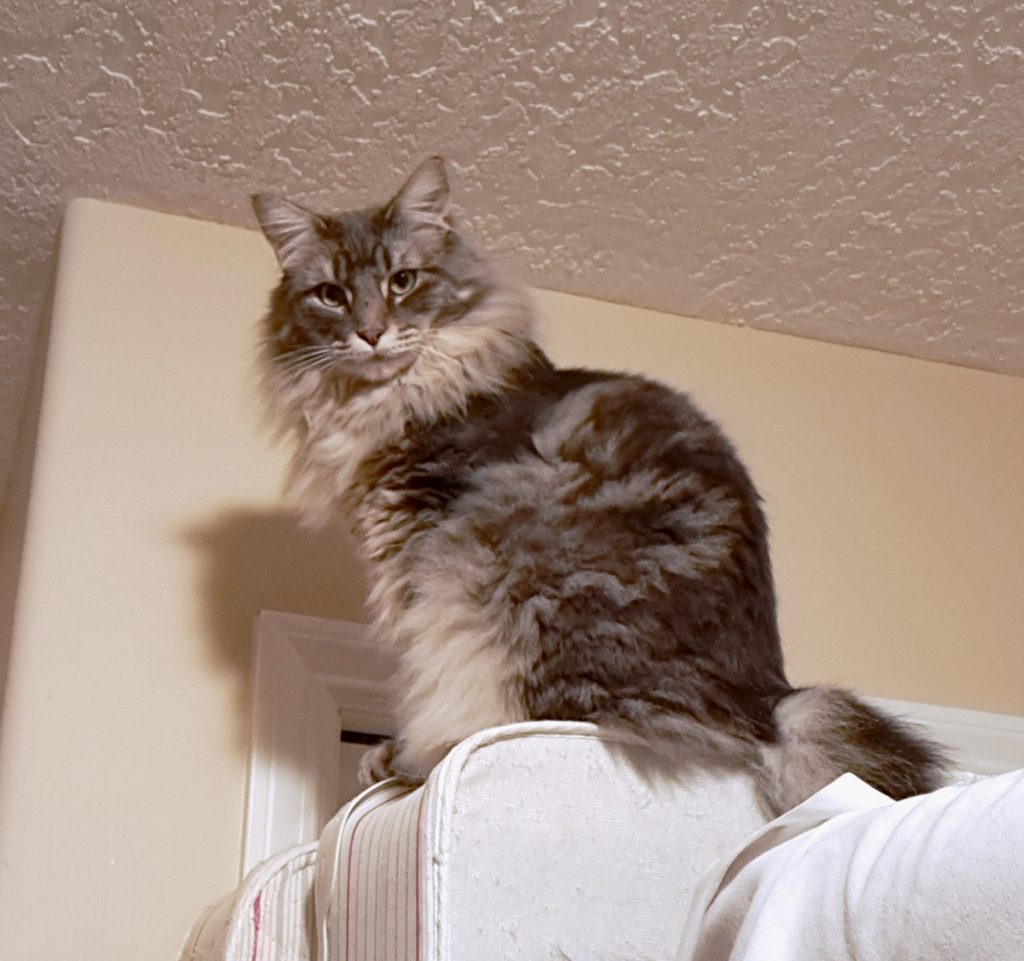 Rufio is only a year old and he is a big guy! Not only is he big-boned, but he is also doing everything that he can go gain weight. Food is the key to this boy's heart and he hoovers his dinner faster than you can blink. This is a symptom of growing up in a home with a large number of cats, and he may never outgrow it. Therefore, he needs to be in a home where he will be meal-fed a measured amount of food, and not free-fed. He will become severely obese if he isn't kept on a diet. The one benefit to Rufio's love of food is that it means that you can work on bonding with him during meal times. He doesn't love being pet, but he will begrudgingly allow one or two strokes while he's eating. The same goes for brushing, which is important since he has such a long, thick coat. A "Go Slow" bowl, kitty treat ball, or food puzzle is recommended for Rufio. If he eats out of a bowl he just gobbles too fast.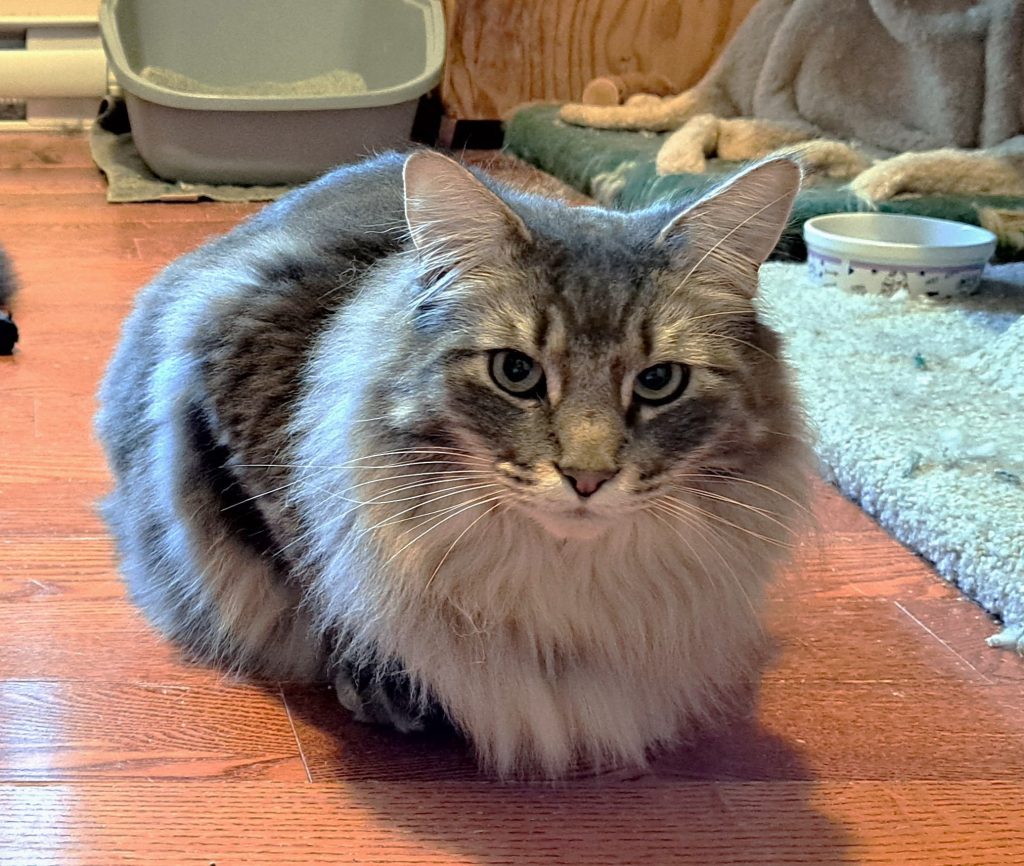 Rufio is currently in a foster home with several other cats that are from the same hoarding situation. He is also with 2 other female cats about the same age, that are from another rescue situation. He has been great with all of them, as well as with the 2 resident cats that live in his foster home. Despite his giant size, Rufio is a lover, not a fighter. He will cuddle with every cat, and even seems to protect the small/scared newcomers in his foster home.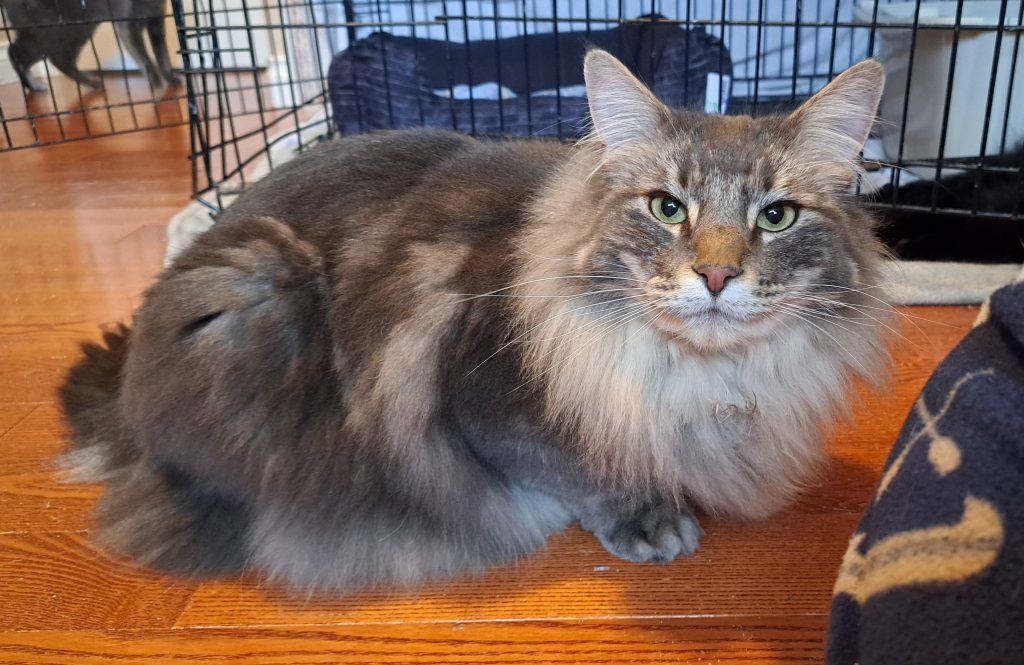 Children and dogs will not be a good fit for Rufio. He had negative experiences with them in the past, prior to coming into rescue. He would absolutely love a home with a catio or enclosed area where he can safely enjoy the outdoors from within.
If you'd like to learn more about Rufio, please visit https://victoriapets.ca/adoption-process/ for information about our adoption process and a copy of our online application. Please note that Rufio is only available for adoption on southern Vancouver Island or the Gulf Islands.