Help us find the perfect family for Ricky. This handsome boy deserves a wonderful, loving home!
The folks who found this poor boy as a stray contacted us because he was in obvious need of some medical care. He had a significant limp, some badly matted fur, and he seemed to not be feeling well. A vet visit revealed that Ricky is a senior (somewhere between 15-17 years old) and has bad arthritis. The vet started him on meds for his arthritis and shaved off his mats, and Ricky is now feeling much better. His limp is almost gone and he's a much happier, snugglier boy who is able to run and jump again. His bloodwork revealed that Ricky is in quite good health for a senior of his age and does not require any special care for his kidneys or thyroid at this time.
Once Ricky was feeling better and we were able to get to know his personality, we discovered that Ricky is an amazing kitty! He is loving, sweet, and calm. He just wants to spend all of his time sitting on his foster mom's lap or relaxing in his comfy cat bed. He has a great purr and will drool when he's happy. Ricky is obviously happy to be inside, receiving lots of care and attention. He will be happiest in a nice, quiet home with someone who is home for most of the day so that he can get lots of one-on-one attention.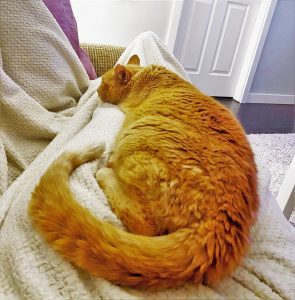 Due to Ricky having arthritis, he needs gentle handling and will not do well in a home with children. We have not seen him around dogs at all but we don't get the impression that he would enjoy the company of a dog. When Ricky first showed up as a stray, he was at the home of someone who had a lot of outdoor cats and they were fighting with him. We're not sure if he was cranky because he wasn't feeling well, or if he was just trying to find his way into the group to get food and shelter, but he was able to co-exist to an extent. Right now, Ricky is in a home of his own and he seems very happy with that, although it's possible that he may be OK in a home with another older, quiet cat if it's kind to him and they each have lots of space and resources.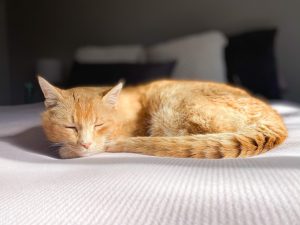 Ricky will require medications for the rest of his life to help with his arthritis. He is currently taking a daily medication that is mixed into his food. The vet is currently trying him on Cartrophen (which is given by injection once a month) to see how he does with that. If it's not the right long-term solution, he will need to go back onto the the daily medication.
If you are interested in adopting Ricky, please visit http://victoriapets.ca/adoption-process/ to view our adoption process and to submit an application.