Do you have room in your home for this sweet pair? They are two peas in a pod and would love a home together. Quimby & Wiggum are brothers who originally came to us from another rescue after being found as feral kittens in the bush. They have been working hard on their social skills in a foster home and are now ready for adoption. Although they are still shy with new people and in new environments, they will blossom into wonderful companions in the right home.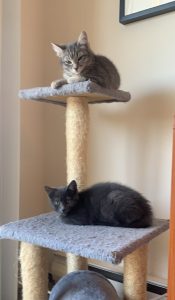 Quimby (tabby) & Wiggum (grey) do everything together including napping, playing, and hanging around the house. They like to play but they loveee even more to have all your pets and cuddles. Although they're still getting used to people, once they warm up to you they won't leave your side.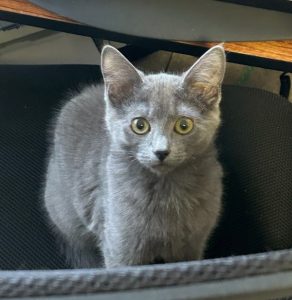 Quimby is a big fan of cuddling up on your neck like a scarf when your lounging on the couch, while Wiggum will cuddle up against your legs for some warmth. They're pretty quiet and only meow when they're playing with each other and get excited. In the mornings, they greet you at the door while patiently waiting for their food. They adapt well to their surroundings, but prefer their space when visitors are over. They are very kind and gentle kittens and haven't scratched at all.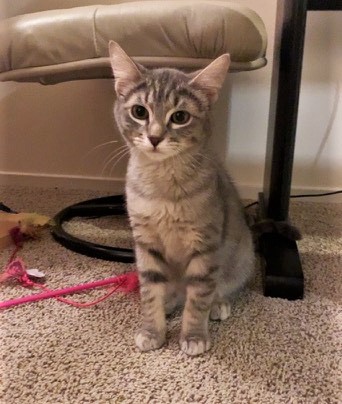 They are great with other cats, but haven't been introduced to dogs yet of our knowledge. Although they may do OK with older kids who move slowly and can respect their space, this pair are not comfortable with young children. Quimby is a little more adventurous then Wiggum, but Wiggum is close to catching up!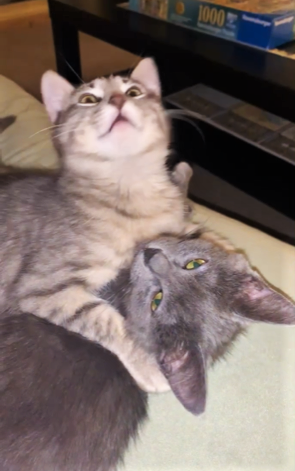 Neither of these boys are too fond of being picked up at the moment, but with some extra practice they may get more used to it. These two brothers are perfect for a loving family who's willing to give them all the cuddles and love they deserve. They definitely rely heavily on each other, and would do best going to a home that can take them both.
Visit https://victoriapets.ca/adoption-process/ to find out online application if you're interested in adopting Quimby & Wiggum.