Picaso and his siblings are the sweetest kittens and they're lucky to be alive. Their mother was a feral cat who is believed to have been hit by a car because one day she started limping very badly. Our rescuers were called in to catch momma (named Trixie) and get her help. After a few days we were able to catch her and take her to the vet. Fortunately for Trixie, her only injury seemed to be a dislocated hip, which was able to be fixed with surgery. Unfortunately, when Trixie was at the vet they discovered that she had engorged mammary glands, which meant that she had nursing-aged kittens somewhere. So our rescuers headed back out to try and find the kittens. Luckily, they were found very quickly and seemed to be in pretty good shape, although at this time they had been without their momma for 3 days at the tender age of 5 weeks old.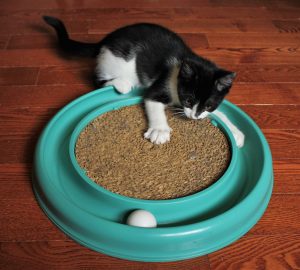 Picaso was the first of the kittens to be caught. Although the kittens were hidden well by their momma under a large pile of wooden debris and garbage, Picaso was curious and came right out to be caught by his rescuers. Picaso was only about 5 weeks old at the time and had to quickly learn how to eat solid food. Within about 12 hours of his rescue, Picaso decided that people were pretty great and that life inside was lots of fun. He is a playful, energetic, cheeky boy who is full of life. Picaso is by far, the most out-going kitten in his litter. He is very curious, fearless, and into everything. He is confident, and loves to play with everyone and everything. He has a great purr and is happy to cuddle, but only once he's tired himself out.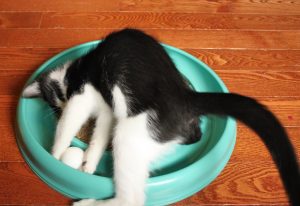 This handsome guy grew up in a foster home with his sibling and with a cat-savvy dog. He got along well with both of them and could do OK in a home with either cats or dogs. We do believe that he will do best with at least 1 energetic cat in his new home that wants to play with him. If he doesn't have another feline playmate it's possible that he may keep his new owners on their toes a bit too much because he has a lot of energy to burn off.
Picaso has a little bit of an underbite, so his teeth don't line up perfectly. It doesn't affect him much and we're certain that he doesn't notice, but it may mean that in the future he might be a bit more prone to dental tartar build up. Therefore, we recommend that his new family give him regular dental treats or brush his teeth when he gets a bit bigger.
Picaso will be ready to go to his new home just after Halloween. If you'd like to apply to adopt Picaso, please visit https://victoriapets.ca/adoption-process/ for adoption information and to access our application.