Meet Peregrine (aka Perry.) Perry is super outgoing and very playful but he also likes to snuggle. He is in a foster home full of animals and is great with allof them. He likes dogs and tries to engage them in play. He is also great with the other cats and the rabbits! Perry needs another cat buddy in the home; if you don't already have a friendly cat to be his friend, he would do great with his foster brother, Johnny. Johnny is shy and prefers to just observe his humans but will agree to pets and chin scratches if the timing is right. Johnny will not yet come to humans for attention but will agree to some loving when he's relaxing.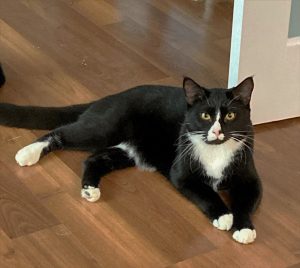 Perry is about 9 months old so has a fair bit of energy. He needs an active home where he will get lots of stimulation and play time. He hasn't been around young children but she will probably be OK with older kids. An active family will be great for Perry but not for Johnny. So he will either do best in an active home where he gets lots of play time, OR in a quiet home with his friend Johnny who will play with him.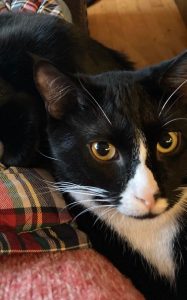 If you'd like to apply for Peregrine &/or Johnny, please go to https://victoriapets.ca/adoption-process/ to find out online application.