Say hello to Pecan! She and her siblings came to us from a loving home after a family cat had an unexpected pregnancy. They are social, affectionate and playful kittens that will make wonderful additions to their new homes.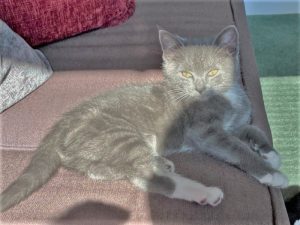 Pecan is a female kitten with adorable stripes in her grey fur. She is classified as a shorthaired cat but is a bit fuzzier than some others. She is sweet, playful, affectionate and cuddly – the perfect mix. She is a sweet girl who just wants love and attention.
None of the kittens have had experience with dogs as far as we know and their experience with children has been very limited. They would likely be OK in a home with calm children that are gentle with them and respect their space.
If you'd like to apply to adopt Pecan, please visit https://victoriapets.ca/adoption-process/ to learn about out adoption process. A copy of our online application can be found at the bottom of that page.