Nova and her brother, Chevy, came to us from a hoarding situation where there were way too many animals and they had not received proper socialization when they were young. Therefore, this pair are shy and do take some time to settle into new environments and meet new people, but once they know you they are sweet and playful. They are about 4-5 months old and are scheduled to be spayed/neutered soon. Nova is a shorthaired female kitten who is quite a lot smaller than her brother, Chevy. The two get along well and could be adopted together, but they could also go to separate homes as long as their are other cats for them to play with.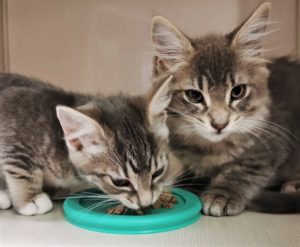 Nova has a zest for life; she's curious, playful and very fast! She gets along well with her brother and she doesn't seem to be too bothered by other cats or dogs going by. Like her brother Chevy, Nova enjoys food and playing with toys, especially ones that rattle or have bells. Although Nova loves attention, she's still learning to stay still long enough to cuddle. Maybe she's too curious about the world around her to sit still for too long. Nova seems to be a bit more of an independent kitten but does enjoy being with her bother, they routinely were "caught" curled up together in their cat beds.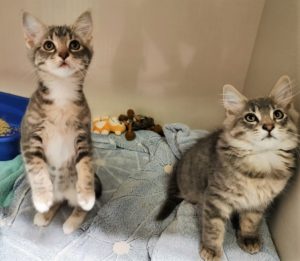 Both of these kittens went through a period of time where they didn't have routine access to food so they will gorge themselves when they eat. Therefore, they will both need to have a regular feeding routine to ensure that they are not overweight. They seem curious of calm dogs but are not comfortable with children.
If you are interested in meeting with Nova (and/or Chevy) please visit https://victoriapets.ca/adoption-process/ to apply.