Meet miss Mouse! This sleek little house panther is ready to find her perfect home. She originally came to us as a stray and the poor girl was never claimed. We don't know anything about her life before VPAS but she started out as quite a shy girl and the vet said that it looked like she'd had a few litters of kittens in the past, and she only 12-18m old! She also had a terrible ear mite and ear infection, which has since been treated and cleared up. So miss Mouse seems like she's had a rough start so we want to make sure she gets the fairytale ending that she deserves.
Mouse started off quite shy with her foster family, but once she settled in and got to know them, she became a sweet, quirky girl. Now, she loves to sit on the couch and watch TV with her foster family, and she's slowly starting to learn how to play with toys. When she does play, he's a pretty lazy player though; she doesn't play with much energy.
Mouse just seems to want to be a lap cat. She wants to be near her foster family all of the time and will follow them from room to room. Her foster mom works from home, and Mouse likes to spend the day supervising her in the office. On occasion, Mouse will sit on the window sill and look out, but she's happier to watch what's going on inside. She would be a great little apartment cat, and will become a little lap cat once she's comfortable with her new family.
There are some adorable little quirks that Mouse has that make her fosters laugh. When she stretches, she sticks her tongue out, every time! She loves to sleep on the bed with her family at night, and she likes to wake them up by chatting in the morning. Mouse is a talker and is vocal about what she wants. If she doesn't like what's happening, she growls (but not in an aggressive way). When it's time for bed, her foster mom carries her to the room, and Mouse will be purring and happy and then when she realizes it's bedtime, she growls. She doesn't try to get away or struggle, she just vocalizes her boredom with bed time.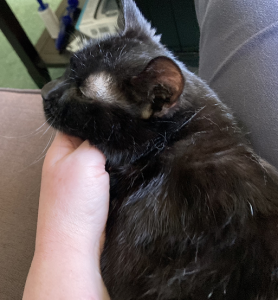 Mouse enjoys head butts and forehead kisses and she really loves being brushed. She likes some wet food, but is a little particular about the flavours (she prefers kibble.) Mouse knows the word "no" and appears to be quite trainable – a bright girl.
Mouse will be happiest as an only pet and isn't fond of children. Older kids (like laid back teenagers, might be Ok, but an adult home will be most comfortable for Mouse. She will start off being fairly timid for a few weeks, so needs a family that will have patience with her, but once Mouse as settled in, she will be a wonderful companion.
If you'd like to learn more about this adorable little cat, please visit https://victoriapets.ca/adoption-process/ to learn about our adoption process, and to complete our online application.