Meet Milkshake. This little girl with the adorable white chin is looking for a home with an experienced cat owner and ideally another friendly, laid-back cat to be her friend. She can be standoffish when she first meets new people, but once she gets to you know she's really sweet.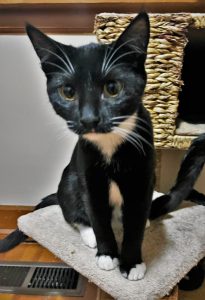 Milkshake and her siblings were born outside to a stray cat. The poor kitty received some injuries and was doing her best to raise a litter of kittens with limited resources, but they needed help. They were rescued by a team of volunteers and came into care when they were about 6 weeks old. Until then, they weren't used to being handled, so they can be quite shy around new people and in new environments.
At first glance, Milkshake seems like a pretty nervous cat; she is the only kitten in her litter that may still hiss around new people that she doesn't know. However, once she is comfortable with you, she will warm up and be very snuggly. Once she gets to know you, she will eat food and treats out of your hand, allow you to pick her up for cuddles. The key to her heart is through food; she will climb on you to get treats of any type!
Milkshake doesn't like fast movements or loud sounds and run and hide if something startles her. She is looking for a calm, quiet home that can be a comfortable space for her. She's not very high energy and doesn't really play with toys too much. She prefers to sit back, chill and observe the world around her. She gets along well with other cats and will do best in a home with a calm, adult cat that wants a cuddle buddy.
Milkshake is not comfortable around dogs because when she was living as a stray (before she was rescued) her only experiences with neighbourhood dogs were scary for her. She seems to be OK around teen-aged kids that are calm and cat savvy, but Milkshake won't be comfortable around young children that move fast or speak loudly.
If you'd like to learn more about Milkshake, please visit https://victoriapets.ca/adoption-process/ for info about our adoption process and to find a copy of our online adoption application.