This bonded pair of kitties are Mercury (mother) and Ferris (daughter) and they are looking for a home together. They are incredibly bonded and they have some minor special needs so they need just the right home to ensure they can stay together and get the care that they need. They also really love other cats and would be very happy to be in a home with another friendly feline.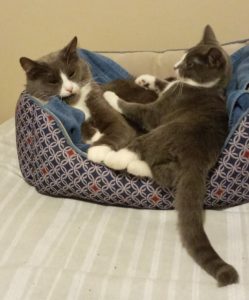 Mercury is the mother and she came to us from a shelter where she didn't have much chance at getting adopted. When she first arrived she had a severe ear infection, an upper respiratory infection, poly-cystic ovaries, several missing and broken teeth and her jaw was infected. The poor girl is only estimated to be about 3-4 years old and has obviously had a rough start. She also came to us with a baby (Ferris) in tow, so had to deal with all of her challenges while raising kittens! Since arriving in our care, Mercury has had dental surgery to fix her oral problems, she has been spayed, and she's been treated for her ear and respiratory infections. She's now in pretty good health (much better than she was) but Mercury has a condition called rhinitis that will likely affect her for the rest of her life. Rhinitis is inflammation of the nasal passages that results in excess mucous production. Some days Mercury is completely normal, and some days her nasal passages get quite congested with mucus. She sounds stuffy and will sneeze. Eventually she sneezes out a glob of mucous and then she's fine for a few days again. Mercury has been tested for all kinds of bacteria, fungus, mycoplasmas and other things that can cause similar symptoms in cats and she was negative for all of them. She has also had a nasal scope and had biopsies done of the tissue in her nasopharyngeal passages and it was normal except for the inflammation associated with rhinitis. What this means is that Mercury's issues are not contagious to other cats or humans, but there also isn't much we can do to treat her. At this time, Mercury does not take medication or require any special care, but her condition should be monitored and a vet should be consulted if it changes or is problematic for her in the future.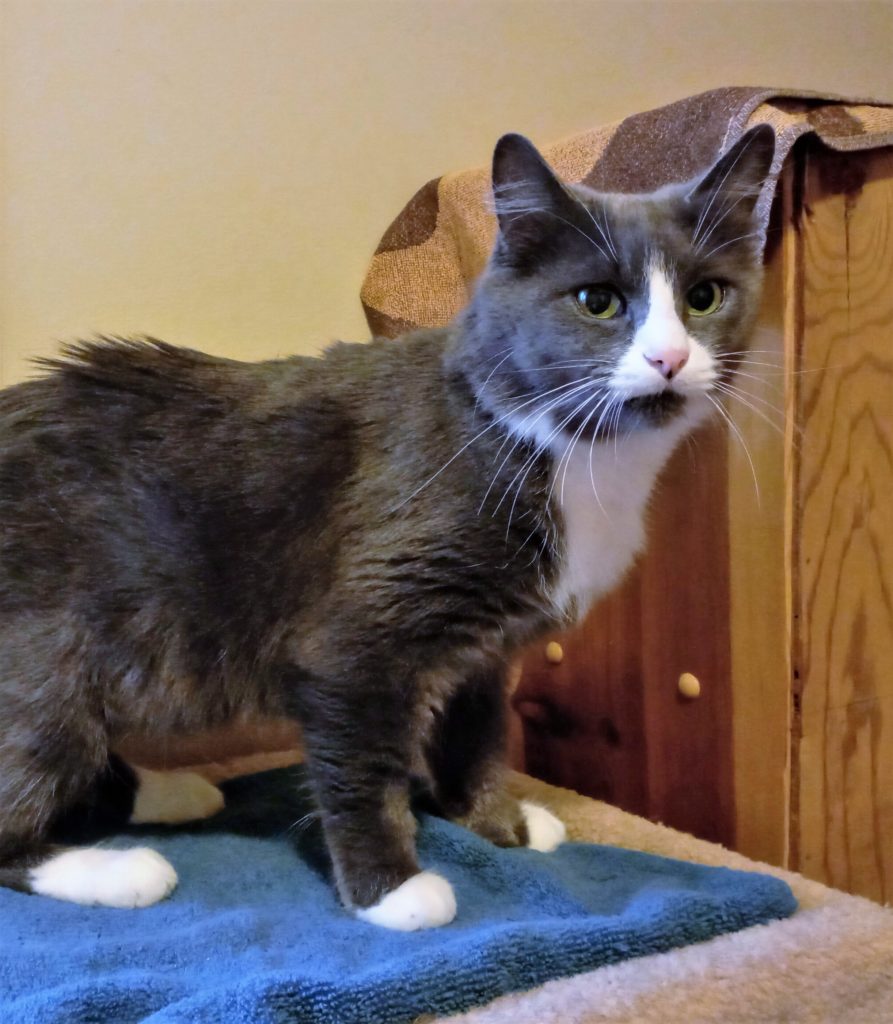 Mercury has medium length hair but doesn't seen to require regular grooming. That said, she does tend to get a lot of hairballs to grooming would help with that. While Mercury can be a bit skittish around fast movements or loud sounds, she is social and likes to be pet. She absolutely loves head rubs and if you rub her neck it seems to put her into a bit of a trance-like state. She really bonds to her people but is less interested in strangers. Of course, she is also very bonded to Ferris; the two of them spend a lot of time together.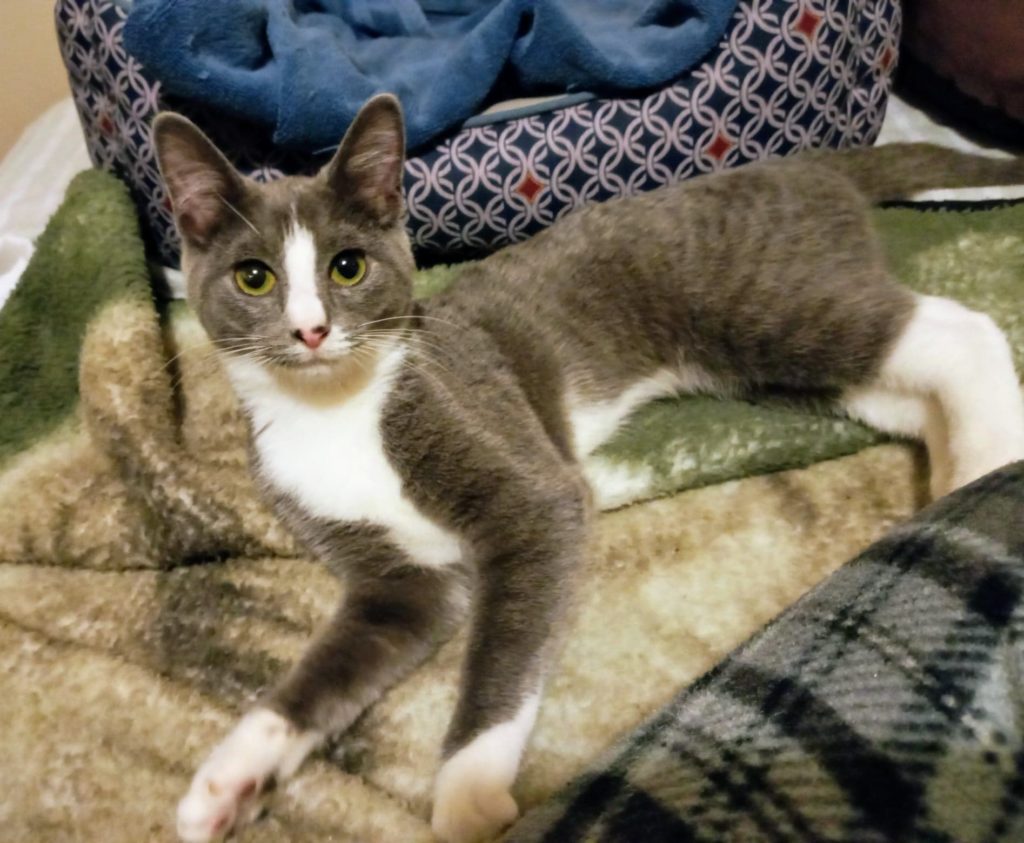 Ferris is now about 1 year old and she is very tiny for a cat. She had a respiratory and eye infection when she first arrived and has been treated but she has some minor scarring of her tear ducts. It doesn't require any medication or regular treatment but it means that on occasion she gets a bit of a goopy eye that you need to wipe and it does make her more prone to getting eye infections in the future. Due to this, both Ferris and Mercury should be indoor cats.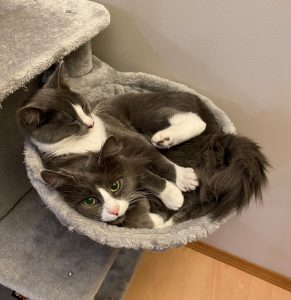 Ferris is more shy than her mom when it comes to strangers, but she's almost more social than Mercury when it comes to 'her people.' Ferris is snuggly but also very active. She is playful and while she will play and wrestle with her mom, she enjoys playtime with her people too; chasing strings and balls, etc. They really love playing with other cats and would love to be in a home with other felines. Mercury has never met a dog but we get the feeling that she would not be impressed. Neither of them are comfortable with children.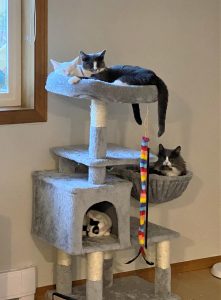 Visit www.victoriapets.ca for adoption information and our application. Please note that due to increasing numbers of COVID-19 in our province, in an effort to minimize risk to our foster homes and discourage non-essential travel, we will only be considering adoptions on Vancouver Island and the Gulf Islands at this time.