Meet Maybelline! This beautiful little calico had a bit of a rough start, but she's now ready for find her perfect family.
Maybelline's mom was abandoned when her previous owner went to jail and she was found trying to get food at a feral cat feeding site. She was heavily pregnant, and very, very skinny Maybelline and her siblings were born in the care of a loving foster home shorty after their mom was rescued, so they have been handled since they were born. They are all sweet, loving, playful kitties who enjoy snuggles and toy time.
Maybelline may be the smallest kitten in the litter, but she has the biggest personality. Tiny Maybelline is as cute as a button and is a super social kitty who loves cuddles, pets and purring to beat the band. She is an intrepid explorer and has become firmly convinced that people are giant toys that she should play with, if her siblings become too boring. She really never stops purring and is just a little love bug.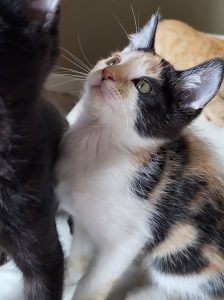 Due to the mom's poor condition when she was rescued, the kittens got kitty colds right as soon as they were born. This lead to them having eye infections at a young age, which caused scarring of the nasolacrimal ducts. This means that instead of the tears that the eye naturally produces being carried away from the eye via the nasolacrimal ducts as they should, they spill over the edge of the eyelid and sometimes run down the face. This doesn't require medical treatment or any special care, but it does mean that the face needs to be wiped to prevent build up of tear stains on the fur of the face. Other than this, Maybelline is a healthy girl who is ready to find her forever home.
Maybelline will be a great addition to any household. She's untested around children or dogs but so far very little seems to put a dent in her curious nature. She plays well with the other kittens (although she prefers not to get too rough and tumble especially with the biggest ones) and with toys and people.
If you'd like to learn more about Maybelline, please visit https://victoriapets.ca/adoption-process/ for information about our adoption process and to find a copy of our online adoption application.