Introducing Maya. This lovely girl will be 2 years old in the fall, and is a very wonderful and well behaved kitty. She came to us through no fault of her own; unfortunately her family was struggling and unable to provide her with the basics that she needed so they asked us to help find her a new family.
Maya loves attention and loves to be groomed. She is gentle, but when she is engaged in play or grooming, she can get excited, and will occasionally give little love nips or bunny kicks. Poor Maya became a mother herself at a very young age so now that her kittens are all grown up and she's spayed, she is learning to enjoy life, which can translate into spurts of energy. When Maya isn't playing, she is super relaxed and loves to play with a catnip stuffed mice. Her foster mom says that she is the 'most perfect kitty.'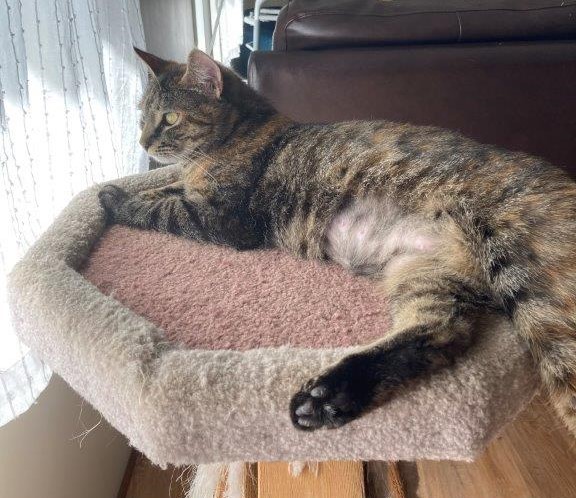 We have seen Maya around other animals and on her own, and she seems to be happier as an only pet. When she's around other cats, even those she knows well (including her own daughter) she seems more withdrawn. Maya will be happiest living as an only-cat where she can get all of the attention that she wants. a middle-aged family would be great for her because she likes lots of cuddles, but she also enjoys playing, so someone who has the time and energy to play with her would be wonderful. She is attentive and likes to watch what her foster family is doing, s we think she'd enjoy a household with some things going on (rather than a very quiet apartment with a single person who rarely has visitors, for example). She really likes to claim all of the attention.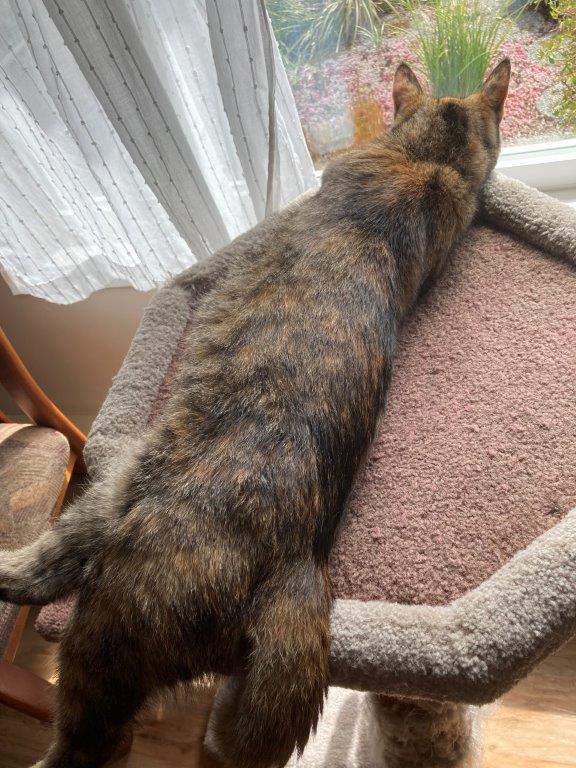 Since Maya can get a little rowdy when she's excited, she probably wouldn't be the right fit for young children. She also seems a little bit sensitive and may not be comfortable with loud sounds and fast movement that young kids often make. However, we suspect she's be ok with a well-behaved older child who is happy to play with Maya.
She really loves to spend time outside in her fosters' catio, watching the birds and goings-on in the neighbourhood. We think that Maya will do best in a home with lots of large windows for her to look out of, or where there is a catio so that she can get some fresh air in a safe way.
If you'd like to learn more about this beautiful cat, please visit https://victoriapets.ca/adoption-process/ to learn about our adoption process, and to complete our online application.