Licorice and her siblings came to us from a home where there were so many cats that they were not receiving proper care or attention. At first, they were very under-socialized but our wonderful team of fosters have been able to work with them over the last few months to help them learn trust in people. They are ready to go to their forever homes, but it will be important for them to find just the right homes that will allow them to continue to come out of their shells and flourish into wonderful kitties.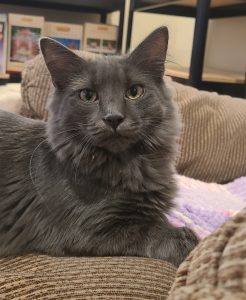 Since these kittens came from a home with a lot of cats, and have grown up in foster homes where friendly cats helped in their socialization, they are much more comfortable being around friendly cats than being on their own. Therefore, must go to homes where there are established, friendly cats that can take them under their wings. They need adult-only homes and at this time are not comfortable with dogs. The kittens are about 6m old and have been fixed.
Licorice is the most confident of the kittens. She was the first to check out her foster mom to make sure that she wasn't too bad after all. Like Hershey, she also loves to snuggle on your legs and will purr up a storm when she's getting love. Licorice has a good appetite and really enjoys soft food time (and will stand on the very tip of the chair and squeak to make sure that you aren't moving too slowly and that you haven't forgotten about her.) She will play forever, especially if the laser toy is involved. The laser is her favourite toy, but she also really adores her rainbow string. Licorice is a bit more confident and independent than the others, but is very affectionate when she wants to be. She likes to kneed her blanket on her bed and purr very loud to make sure you know she's ready for love. She also really enjoys playing on the scratching post scratches it up several times a day.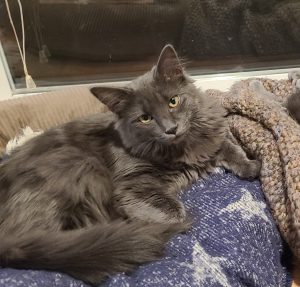 If you have a quiet home with existing felines, and you are interested in Licorice, please visit https://victoriapets.ca/adoption-process/ for info on our adoption process and for a copy of the adoption application.
Please note that the kittens are in foster care in Cobble Hill. Potential adopters will need to visit them in their foster home there.