Jynx is a handsome boy who is looking for just the right home with a cat-savvy owner. Jynx lived with a senior lady and he had a quiet, independent life. He would be inside sleeping on the bed or getting attention when he wanted human interaction but spent time on his own when he needed some quiet time. Unfortunately, Jynx's mom had a change to her health and was no longer able to provide care for him. Jynx's previous owner's family tried to take him in but it was discovered that Jynx is not at all comfortable with dogs (which they had.) Therefore, he was unhappy in his new space and needed to find a different home.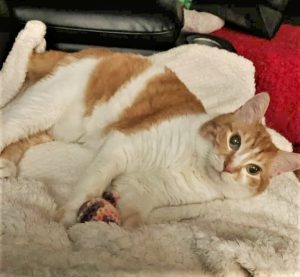 We estimate that Jynx is around 9 or 10 years old and it's quite clear that he enjoys a very quiet lifestyle. He is independent and likes attention on his own terms. He may never be a lap cat, but he will rub up against your legs and loudly declare his love for you. If you try to pet or handle Jynx when he doesn't want attention he will swat at you to let you know that he does not like what you're doing, but that happens rarely. Often, he comes
looking for attention and can be quite affectionate and sweet. It will be important for Jynx's new owner to be very comfortable reading feline body language so that they can pick up on the cues that Jynx is providing and react appropriately.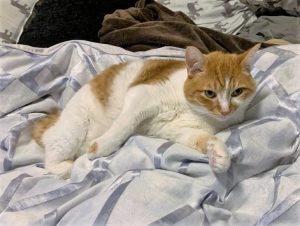 Jynx is not comfortable around other animals and cannot be near children. He needs a home where he will be an only child! He also needs to make sure his new owner or family is a quiet person. He does not like loud sounds and will run away if you turn on the vacuum or other household appliances. He does like to watch the birds through the window.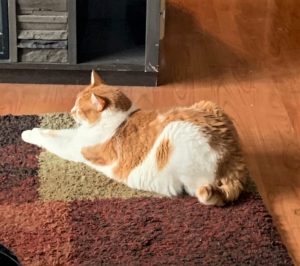 Despite being a cat, Jynx really enjoys playing with water! He loves it when his foster mom turns on her tap so that he can splash around and paw at the stream of water. He will also only drink running water so he needs someone who is willing to maintain a water fountain for him. We have purchased a small fountain for Jynx and it can go to his new home with him, but his new mom must be comfortable making sure that it's cleaned regularly and maintained. He also likes to carry his toys around the house. They haven't ended up in the water…. so far.
Finally, Jynx needs someone who is willing to feed him regular meals or use an auto feeder for him. If Jynx is allowed to eat too much at once, it causes him to regurgitate his food. Since Jynx has been switched to a gastro food from the vet and receives meals that are measured out, he hasn't had any more troubles. With his age, he has recently developed some arthritis in his elbows. He gets daily meds for this (which is easy to give in his food) and it helps him feel better.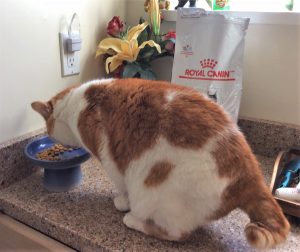 Jynx is a sweet boy who is looking for a quiet roommate. If you have a calm soul, he will be your purrfect sidekick. Please visit https://victoriapets.ca/adoption-process/ to find information regarding our adoption process and for a copy of our online application.
Please note that Jynx gets very seriously stressed when he is in a carrier or in a vehicle so we will only consider applications from southern Vancouver island (Sidney to Goldstream.) A longer drive could be dangerous for Jynx because it causes his heart rate, blood pressure and respiratory rate to increase too significantly.