Jane and Fred are a pair of sweet siblings who are looking for a home where they can stay together. This pair has had a fair bit of upheaval in their life so they are quite leery of change and they really need a nice, stable home where they can settle for the rest of their lives. They will really benefit from a quiet home with calm energy and will need to live with someone who has experience working with shy cats.
Jane & Fred originally came to VPAS in 2014 after being rescued from a hoarding situation. They were very shy and very under-socialized because they had never really received any one-on-one care. After being with VPAS for quiet some time, receiving a lot of TLC and learning social skills, the kitties were adopted by their foster dad. They lived a quiet lifestyle and were happy in a loving home until early 2021. Unfortunately, after spending the better part of their lives in a loving home, this pair had to come back to us because their owner was diagnosed with a terminal illness and he did not have friends or family in the province that would be able to give Jan & Fred the home that they need.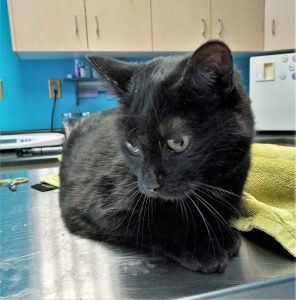 Jane is the more out-going of the pair, and although she's shy, she came around to her new life and new foster home in just a few days. She enjoys pets and drools like crazy when she's happy and getting attention. Although Jane is a lot smaller than her brother, she is still overweight and her food intake does need to be managed.
Fred is the more reclusive of the pair. It took him several weeks to become comfortable in his new foster home. He can be pet and isn't aggressive at all, but he's still getting used to the idea of being pet by a 'new person.' Once he's used to a new family he'll enjoy love and attention just like his sister, but it will take him longer to get there (likely a few weeks.) He is significantly over-weight and is on a diet to help him lose weight in a slow and safe manner. Fred does have a heart murmur and a bit of a wheeze when he breaths. This has not been noted in his vet exams before and may be related to either stress from his recent changes and/or his obesity. We are hopeful that both of these issues will resolve with time but it is possible that Fred may have the start of heart disease. We just have to monitor him for now and hope there are changes on his next vet exam.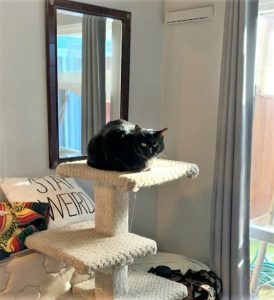 Neither Jane nor Fred will be comfortable in a home with children; they are nervous of loud sounds and fast movements. So far, they seem to be OK with other cats but they don't enjoy high energy. Neither of them are playful so they don't want to hang around with a bouncy youngster, but they would both be fine spending time with a quiet or older cat. They have also been exposed to calm, respectful dogs and thus far have been OK with them, as long as they have a scratching post or some place where they can rest out of reach if they choose to.
If you are interested in adopting this pair, please visit http://victoriapets.ca/adoption-process/ to view our adoption process and to submit an application.