Frankie is a very sweet senior boy who needs a loving family that can ensure his retirement years are full of TLC. Frankie is 16 years old and unfortunately, his previous owners lost the cognitive ability to continue caring for him. Therefore, we have been unable to find out anything about his life prior coming to us. He is a special boy who really deserves a loving home.
Frankie is very sweet! All he wants is to be near you, even if it's just sleeping in the same room as you. He's not really a lap cat, but he enjoys sitting next to you while you watch TV, read, or work from home. As soon as you say hello to Frankie, he begins purring. His mouth tends to hang open (see notes below) so his purr is very loud and you can sometimes hear him from the other room! He is a bit of a talker too and will share gentle meows and merrs about his day (he is not loud when he talks, although on occasion he does likes to have a little yowl in the morning if you're sleeping in too late.)
He really enjoys sitting in the sun looking out windows watching the world go by – cars, humans, and animals. First thing in the morning, Frankie loves to have a good 10-15 minute play session with his foster mom (although it's not fast-paced.) He really enjoys his feather on a string toy and then works up to his absolute favourite toy, the laser. When he gets playing with the laser, he's fast for an old guy – completely unexpected! But he's pooped after about 5 min. If he's not seen you for a bit, he usually wants a snuggle / pets and / or to play a little. He does let you pick him up for pets for about 5 min or so, but he's a large guy and a tad heavy. Frankie will be happiest in a home with someone who is around for much of the day. Perhaps someone who works from home or is retired.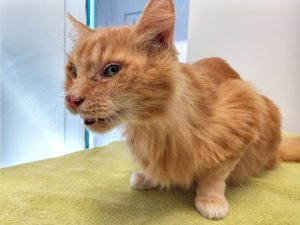 For a senior gentleman, Frankie is actually in fairly good health, but he wasn't when he first came to us. He had a skin infection with open, bleeding sores, horrible ear infections, severe dental disease, and matted fur. He also had untreated arthritis which made getting around difficult for him. Frankie has been under veterinary care for a few months and we've now got him back on track.
Although Frankie is an older guy, his insides are actually in fairly good shape. His bloodwork was good and at this time is not showing any signs of kidney dysfunction or thyroid problems. He has dental disease but is scheduled to have that taken care of at the vet in October (he will get his vaccines done at the same time). Frankie does have some arthritis so is on medication to help him move and feel better. He still walks fairly slowly and has a bit of a swagger but he is much more comfortable now. The vet discovered that Frankie's ear and skin infections were due to a possible food allergy. Since being with us he has been on a hypoallergenic food and his skin/ears are in much better shape.
When you first meet Frankie, he looks as little bit…. different. His has an odd expression/shape to his face. The vet believes that at some point Frankie may have had a trauma that caused damage to his facial nerves. This in turn lead to atrophy of the muscles in his face. This has lead Frankie to have a grimace-type expression and his mouth hangs open a little bit. This does not affect Frankie in a negative way at all. He is able to eat, drink, and chat normally and does not require any special care. He just looks a little bit different and his eyes are a little more on the squinty side.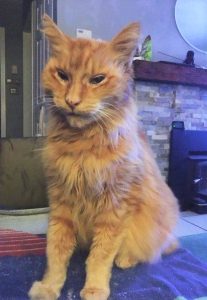 Since Frankie has arthritis in his hind end (which means that his litter box posture is a bit different) and he has long hair, he does sometimes get a bit of stool stuck to the hair by his bum. Therefore, he will benefit from a regular 'sanitary shave' of his bum hair. He also requires regular grooming to make sure that his long hair doesn't mat.
Since Frankie has been in our care we have not seen him around other animals so we are unsure what he thinks about them. We do know that he needs a quiet, calm home without children.
Frankie is just a sweet, laid back senior kitty who deserves a loving home. He's grown on his foster parents quite a bit in a short time and we're sure he'll quickly grow on you too.
If you're interested in learning more about Frankie, please contact us at victoriapets@gmail.com.