This beautiful kitty is Figgy. She is a gorgeous girl who catches a lot of attention but she is looking for just the right home to meet her needs. Figgy is a young adult who was found living in the yard of an abandoned house. She was scared and very pregnant. Within a few days of coming into care she gave birth to 6 healthy kittens, and spent the next few months caring for them. She was a great mom and now that her kittens have all found homes, it's her turn.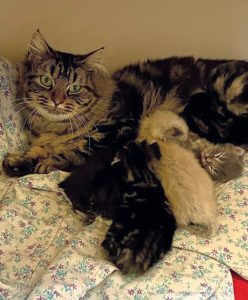 Figgy has gained a lot of confidence since she first came to us in October 2021 but because she was not properly socialized as a youngster, she is still learning to trust people. She hangs out on the scratching post watching the birds outside and she will watch the dogs in her foster home from afar, but at this point she is too cautious to allow petting. It doesn't mean she will always be this way, but it will take some time for Figgy to become comfortable in a new home and with new people. Therefore, she needs to find an adopter who has experience working with under-socialized animals and who has the time & patience to allow Figgy to blossom.
So far, Figgy seems to be comfortable around other friendly cats, and in fact, she prefers the company of feline friends to human ones. Therefore, we would like to see Figgy go to a home with another cat or two would will be willing to get her friends. She is not a high-energy cat so she isn't looking for a play buddy – just someone who is happy for her company.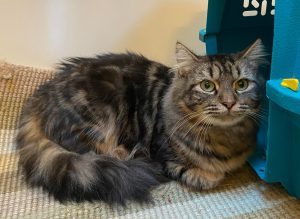 Figgy does have dogs in her foster home and while she doesn't seem too scared of them, she does not interact with them at all. She might be OK with a quiet cat-savvy dog who ignores her but Figgy will likely not want to socialize with a dog. She is not at all comfortable around children.
If you have a quiet, adult-only home with a friendly cat or two, and you have experience working with under-socialized cats, we'd love to hear from you. Figgy is only 2 years old and has have a rough life so far. She deserves to find a loving family to help her blossom.
If you are interested in Figgy, please visit https://victoriapets.ca/adoption-process/ for information about our adoption process and to find a complete our online adoption application.