This beautiful girl with the gorgeous long coat is Crystal. She is a young adult who came into our care from the home for a hoarder. When she first arrived, she was clearly very traumatized and uncertain; she was afraid to be pet and spent all of her time hiding. After spending a few months in foster care with one of our very experienced fosters, Crystal has turned into a completely different cat and now she's ready to find her forever home.
Although Crystal's foster mom is very experienced working with under-socialized cats, she says that the biggest factor in Crystal's rehabilitation has been the other cats in her foster home. Crystal immediately loved the other male cats that she got to meet and is always spending time with them. Her favourite friends are a young male cat (8m old) and a litter of 3 tiny male kittens that she really likes to play with. We would really like to see Crystal go into a home with another cat (or ideally a few cats) that are comfortable and confident and who can help her adjust to a new family.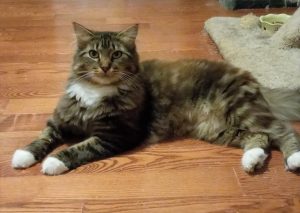 She has a gentle personality and Crystal needs a quiet home. She is still nervous of fast movements and loud noises, but if you sit quietly, she will come up to you and ask for attention (once she knows you.) She is very food motivated and is keen to be your friend when you have food. Since Crystal went through a stage of not getting fed regularly, she will hoover any food that is put in front of her. Therefore, she needs to be in a home where she will receive regular, measured meals or she may become very overweight.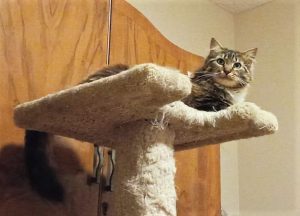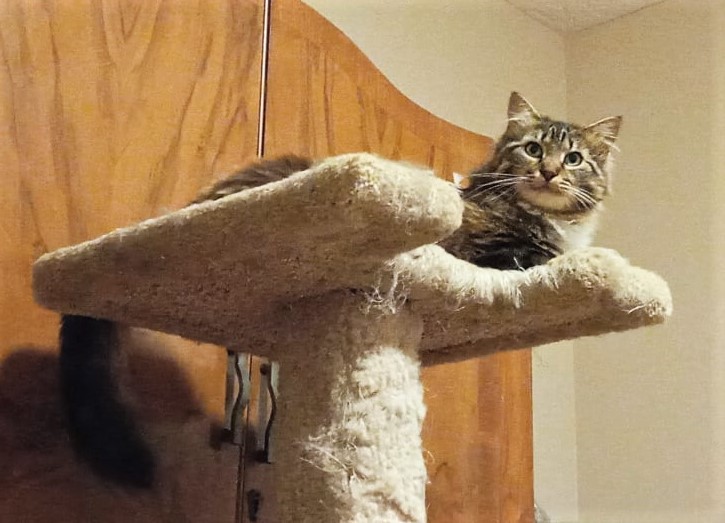 This sweetheart does have long hair so she will need to be in a home where someone is willing to brush her regularly. Since Crystal doesn't do well with new people or environments, she will not be a candidate to go to a grooming facility on a regular basis.
Although Crystal has come a really long way since she's been with us and is very affectionate with her foster mom now, she will still need to go to a quiet, adult-only home with people who are experienced with under-socialized cats and are adept at reading body language. Crystal loves other cats but is not comfortable with dogs or children.
Crystal is a very underfoot cat so could be problematic for someone who has mobility challenges. She would not be a good fit for someone who is a fall risk.
If you'd like to inquire about Crystal, please visit http://victoriapets.ca/adoption-process/ for info on our adoption process and a copy of our adoption application.