Coconut is a sweet kitten who is looking for just the right home. He is a bit of a nervous nelly but he has a very gentle and kind personality. He will really blossom into a wonderful kitten if given the right family.
Coconut and his siblings were born outside to a stray cat. The poor kitty received some injuries and was doing her best to raise a litter of kittens with limited resources, but they needed help. They were rescued by a team of volunteers and came into care when they were about 6 weeks old. Until then, they weren't used to being handled, so they can be quite shy around new people and in new environments.
When Coconut was first rescued, he was quite ill and had a very hard time breathing. After many vet visits, the right medication and much TLC, Coconut recovered and is now very healthy. Although he was a shy kitten to begin with, Coconut didn't ever fight or try to run away when he was getting medical treatments or meds. He was very good about all of it but is now a bit leery of hands coming toward him. Therefore, he is looking for a quiet home with a cat-savvy person to help him build trust and blossom.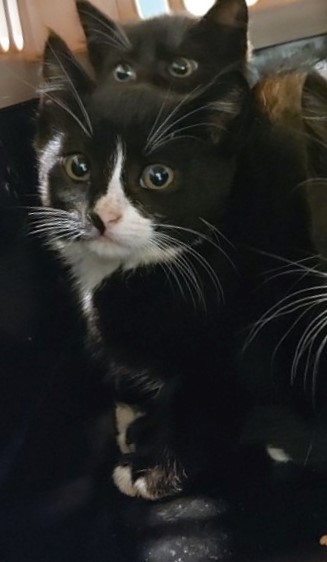 Coconut is quiet a calm, low-energy kitten. He will be shy when he first meets you, but if you take the time to sit with him and let him see that you're not scary, he will warm up quickly. He loves food (a great way to build trust with him) so he is probably a cat that will need measured feedings as he grows rather than being free-fed.
Although Coconut is quiet and calm most of the time, he can become very energetic when the toys come out. He loves chasing string toys, playing with scratching posts, and climbing the cat tree. He's an independent kitten and often leads his littermates in games.
Thus far, Coconut is not comfortable around dogs because when he was living as a stray (before he was rescued) his only experiences with neighbourhood dogs were scary for him. He seems to be OK around teen-aged kids that are calm and cat savvy, but Coconut won't be comfortable around young children that move fast or speak loudly. He would do well in a home with other cats but could probably do OK on his own as well as long as his family has lots of time to spend with him.
If you'd like to learn more about Coconut, please visit https://victoriapets.ca/adoption-process/ for info about our adoption process and to find a copy of our online adoption application.