Handsome Rutabaga and gorgeous Clementine are a bonded pair of siblings who are looking for a home together. They were originally found as tiny kittens in a feral colony and have been thick as thieves since they were little. They were very scared when they first arrived but for the last few months they have been working hard on their social skills and are ready to start looking for a home.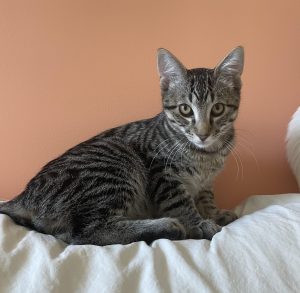 Rutabaga (Rutie) started out being very shy, and now is confident and loves watching everything, whether it's birds through the window, or the tv. He and his sister love to play together, and nap together. He's goofy, calm, and sweet. It has taken a while for him to be comfortable, but now that he is used to his foster home and foster mom, he's really relaxing. He is the protector of the pair so is sometimes suspicious and hesitant to accept head scratches. However, when he finally does, he loves them and will stretch out with his belly up. Rutie loves playing in his tunnel and with his spring toy, and loves snacking on treats.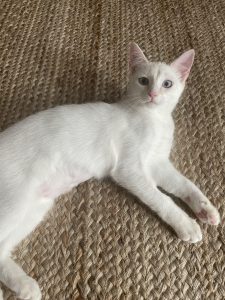 Rutie is a Manx cat and has a very short (non-existent tail.) He was born this way and has has no ill effects from it. Some cats without a tail can have Manx syndrome which leaves them unable to use the litter box properly or unable to walk with a normal gait. Fortunately for Rutie, he has no mobility issue and is able to use his litterbox normally.
Although Clementine looks white in many of her photos, she is actually a flame point. When they first arrived in care, Clementine was the more shy of the two kitties, but now she is a cuddly goofball. She and her brother used to be fiercely independent, but with time and patience they have learned to trust and accept love from humans. Clementine never wants to leave her foster mom's side. She is silly and is always trying to find something new to do. Clem is smart, listens well, and has been a joy to live with. Her favorite toy is her ball, which she proudly does laps around the house with every day.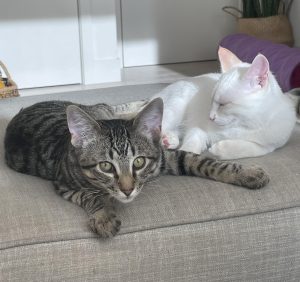 Since both Clem and Ruttie can be nervous nellies when they first meet new people, they will need a home with a cat-experienced family that will have the patience to help them blossom on their own time. They are looking for an adult-only home and must be adopted together.
If you're interested in this pair, please visit https://victoriapets.ca/adoption-process/ for information regarding our adoption process, and to find an online copy of our adoption application. At this time, we are only considering applications from southern Vancouver Island or the Gulf Islands.