Meet Bjorn from our ABBA litter. This little one came to us with his siblings after being found as a tiny kitten in a feral cat colony. They were really scared when they first arrived, but they have been in foster care for the last few weeks working on their social skills. While they are still nervous of strangers and it will likely take them some time to get used to a new home, but they're doing really well and learning to enjoy snuggles.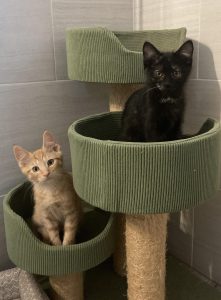 All 3 of the kittens are full of beans and enjoy playing. Since they are still a bit shy of hands and sudden movements they aren't excited about wand-type toys but they play well with balls and mice, and like to wrestle with each other. They like the dog in their foster family, and are very interested in the resident cat, although they haven't been able to play with him because he's not interested. All of them will do best in a home with with another feline or canine friend.
Since these guys will take some time to get used to their new home, they are looking for experienced cat parents who are willing to have patience. A quiet , adult-only home with a calm energy will be important for them to help them blossom. They will make wonderful companions once they are comfortable with their new family.
If you'd like to apply to adopt Bjorn, please visit https://victoriapets.ca/adoption-process/ for information regarding our adoption process, and to find an online copy of our adoption application. At this time, we are only considering applications from southern Vancouver Island or the Gulf Islands.