This handsome, fluffy kitten is Taras. This little one is part of a litter of kittens that was born to a pregnant stray cat. Fortunately, they were lucky enough to have grown up in a family home. He is friendly, affectionate, social, and inquisitive, and will make a wonderful addition to his new family.
Taras is the only fluffy kitten in his litter, and it really makes him stand out. He is a calm, sweet, cuddly boy who gets along with everyone. He will need a family that will be willing to keep his coat brushed since it is long and could get matted if not regularly cared for.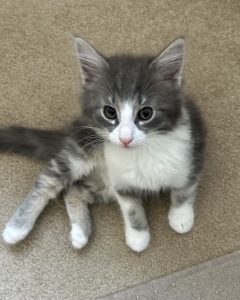 All of the kittens are easy to handle and grew up around children. They're quite independent, but they all get along well and any two of them could go to a home together if someone is looking for a pair. They play well together, but also alone (with toys) and with people. They all like scratches and pets, and all of them enjoy playing with the adult cats in their foster home. They would all love to go to homes where there is another cat or kitten for them to play with. None of them have experience with dogs, but if introduced properly they will likely all do OK with a calm dog.
If you'd like to learn more about Taras and/or any of his siblings, please visit https://victoriapets.ca/adoption-process/ for information on our adoption process, and to find a copy of our online application. Please note that we are only accepting applications from southern Vancouver Island for this litter.