This cute little guy is Tango and he is ready to find his forever home! Tango and his siblings came to us because several of the kittens in his litter have special needs and their previous family was not able to care for them. Several of the kittens (excluding Tango) have a condition called Cerebellar Hypoplasia (CH) which affects their coordination. Tango does not have any balance issues and runs / plays like a normal cat. He does not require any special considerations or treatment.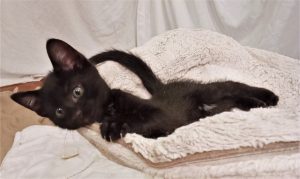 Tango is a very playful kitten who really enjoys wrestling with his friends. He also really loves to climb! Tango will do best in a home where he has lots of room to race around, play with friends, and climb kitty furniture. He will not be the best fit for someone who is looking for a lower-energy cat. Tango does enjoy climbing and wrestling and is not for the faint of heart.
We joke that Tango is wearing a bikini because he has a cute little white spot on his chest and one on his groin. Tango is social, easy to handle, and very adventurous. He is always the first one of his siblings to check out new things. He does not like to be confined and will do best in a larger home with room to run rather than in a small apartment.
If you are interested in Tango, please go to https://victoriapets.ca/adoption-process/ to learn about our adoption process and to submit an adoption application.