Snickers and her siblings came to us from a home where there were so many cats that they were not receiving proper care or attention. At first, they were very under-socialized but our wonderful team of fosters have been able to work with them over the last few months to help them learn trust in people. They are ready to go to their forever homes, but it will be important for them to find just the right homes that will allow them to continue to come out of their shells and flourish into wonderful kitties.
Since these kittens came from a home with a lot of cats, and have grown up in foster homes where friendly cats helped in their socialization, they are much more comfortable being around friendly cats than being on their own. Therefore, must go to homes where there are established, friendly cats that can take them under their wings. They need adult-only homes and at this time are not comfortable with dogs. The kittens are about 6m old and have been fixed.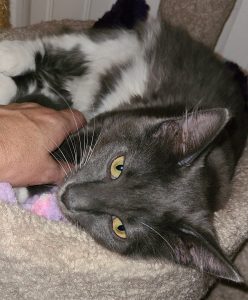 Once Snickers gets to know you, she is a real lover. She is still a bit nervous and will run away if you make a quick movement or loud sound, but she wants to be loved so badly that she will soon come back once the 'threat' is gone. Snickers will swing her princess floof tail around and wow is it a poof. She will nibble on your toes to show you she is happy, and she will roll around on her back purring. Snickers loves to play with her brother and sisters, but will choose to hang out with her people for a while before play time starts. She will sit on top of her cat post and watch everything that's going on around her. As soon as you get up she thinks you're going to leave and will jump down and try to convince you otherwise.
If you have a quiet home with existing felines, and you are interested in Snickers, please visit https://victoriapets.ca/adoption-process/ for info on our adoption process and for a copy of the adoption application.
Please note that the kittens are in foster care in Cobble Hill. Potential adopters will need to visit them in their foster home there.