Meet Slim & Jim. These two are brothers (born approx. Oct 2021) and are very bonded. They are looking for a home where they can stay together forever.
Slim (more white) is the most outgoing of the two boys. He loves to play and chase his toys around the house. Slim is always exploring everywhere and enjoys getting to new heights. Once he's tuckered out from playing, Slim loves cuddles. He's a hands-on cat who enjoys attention. Slim likes to give little love-bites when he's showing affection and can be quite handsy when he plays but it's nothing other than playful.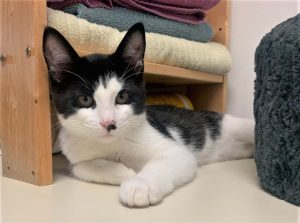 Jim (more black) is one of the sweetest, most gentle cats his foster has ever been around. He's very passive and independent (does not need to be by you at all times.) However, when Jim comes to you for cuddles, he hurries himself into your lap and purrs non-stop! Jim, has no problem being picked up, kissed and squeezed when he's in the mood.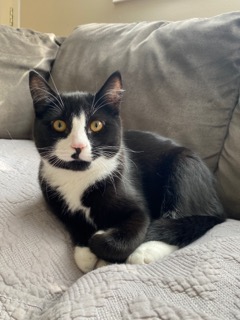 Both boys get along with each other very well and want a home where they can stay together. They came to us from a shelter on the BC mainland and in that environment they were living communally with other cats. Therefore, we believe they could do well in a home with an existing cat, but they would be happy without other cats too – as long as they're together.
Thus far, neither cat has had any experience with dogs or kids. They can be a bit shy when meeting new people and in new situations so we think they may be a bit nervous around young kids but they would probably be OK with quiet, calm teens.
If you'd like to apply to adopt this pair, please visit https://victoriapets.ca/adoption-process/ for our adoption process and to submit an application.