Pepper is a sleek, black youngster who is looking for a calm home environment and another, social cat to be her friend. She can sometimes be shy when meeting new people and investigating new environments, but she is a gentle, sweet girl who will thrive in the right home.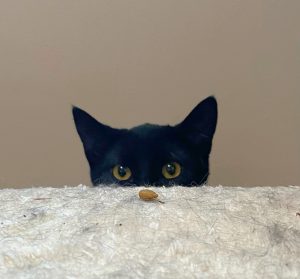 Pepper and her siblings were born outside to a stray cat. The poor kitty received some injuries and was doing her best to raise a litter of kittens with limited resources, but they needed help. They were rescued by a team of volunteers and although it took them a little bit of time to get used to being handled by people and living indoors, they are just shy of 12 months old now have the hang of it.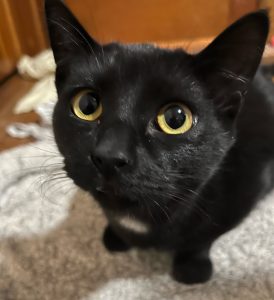 Pepper is a very curious kitten who just loves to play with toys. She may be the smallest of the kitties, but she has a big heart and really wants to come around. Pepper really loves her scratching post and loves to chase toys that have things dangling off of a stick or rod. She is very food motivated and is always one of the first kitties to come out for dinner. It can take her a while to warm up to new people, but once she trusts you, she will be your BFF. When she's happy, Pepper loves to purr for you.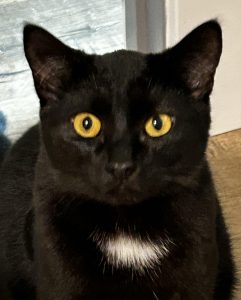 Pepper plays well with the other kittens so will do best in a home with a friendly cat that can help to show her the ropes. She is also OK with the two dogs in her foster home but they are very friendly, cat-savvy and calm. She doesn't like when the dogs get rambunctious.
Pepper seems to be OK around teen-aged kids that are calm and cat savvy, but Pepper won't be comfortable around young children that move fast or speak loudly. Since it takes her time to learn trust, a calm energy is what's best for her to be around.
If you'd like to learn more about Pepper, please visit https://victoriapets.ca/adoption-process/ for info about our adoption process and to find a copy of our online adoption application.