Meet Nibblet! This little girl may be the smallest in her litter, but she has the biggest personality. She will be a wonderful addition to her new family.
Nibblet and her siblings were born outside to a stray cat. The poor kitty received some injuries and was doing her best to raise a litter of kittens with limited resources, but they needed help. They were rescued by a team of volunteers and came into care when they were about 6 weeks old. Until then, they weren't used to being handled, so they can be quite shy around new people and in new environments. However, Nibblet turns into a real cuddle bug once she knows you.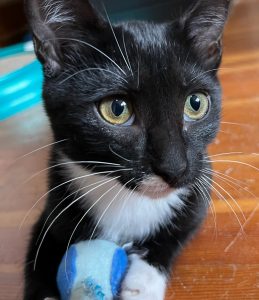 She is a really sweet and well-balanced girl. Nibblet is an adorable and affectionate kitten, who has a good energy level but who also loves a balance of playing and cuddling. She really enjoys batting around ping pong balls and chasing string toys around the room. Nibblet
has a beautifully loud purr that you will hear often. She likes to sit beside you or in your lap, being petted.
Nibblet is the 'mother' of her litter and spends time with each of her 5 siblings. She likes to groom them, cuddle with them, and look after them. We would love to see her in a home with another friendly kitty or two who might like an attentive little sister. Thus far, Nibblet is not comfortable around dogs because when she was living as a stray (before she was rescued) her only experiences with neighbourhood dogs were scary for her.
She seems to be OK around older kids / young teenagers that are calm and cat savvy, but Nibblet probably wont be comfortable around young children that move fast or speak loudly.
If you'd like to learn more about Nibblet, please visit https://victoriapets.ca/adoption-process/ for info about our adoption process and to find a copy of our online adoption application.