Meet Linus. This handsome, fluffy boy is a real sweetheart who will make a great cuddle bug once he bonds to a new family. This guy really is the perfect cat. He might be a little bit shy, travels well in the car, and he loves to cuddle and chat about his day.
Linus is a big boy and he's hoping to find a family that will help him slim down a little bit. He's only about 5 years old so has the ability to easily move around if you play with him and provide options for mental stimulation. He just needs someone to commit to interacting with him regularly (rather than just cuddling, which he really loves also.) He does like to bat around random things that he finds on the ground and will try his best to make toys out of them. Linus also needs someone who will spend the time brushing him regularly to ensure that his long, luscious coat doesn't matt. He loves to be brushed so it's a great way to bond with him.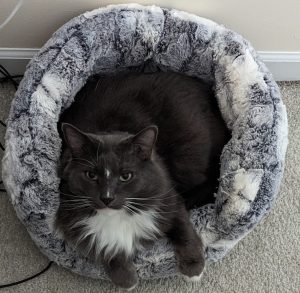 Linus' foster mom says that he is very smart, and easily teachable. After a short time with them, he was already responding to some commands that he didn't know when he first arrived. He loves to play by himself rather than with people. He absolutely loves chasing around his fabric mouse on the hardwood and he'll play with balls and springs. He's afraid of wand-style toys.
Linus' favourite thing to do is sit on the windowsill and watch the animals outdoors. We believe that he would love a home with a catio or enclosure. He's a huge cuddler once he trusts you and will demand pets first thing in the morning and whenever he's woken up from a nap. He will touch your face (no claws) to remind you that you should be petting him, if he's in your lap. He also drools when he is getting cuddled.
Linus definitely does not enjoy being picked up. He'll allow it briefly if his fosters need to move him, but otherwise he doesn't like it at all. He doesn't show aggression but will struggle to get away.
Overall, Linus is a healthy boy, but he does have a history of developing a urinary blockage, which was treated by the veterinarian. There are a number of different factors that can lead to urinary crystals, including breed, weight, diet, and stress, all of which were factors for Linus. He has now recovered from this episode and his precipitating factors are now being managed, so we don't anticipate future problems. However, in order to ensure that he does not have another episode, it will be important for his new family to commit to continuing with his special urinary protective diet.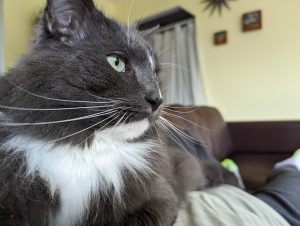 Linus is a little bit on the shy & quiet side, so would really love an adult-only home with a mellow vibe. He will become a bit flighty if there are loud sounds, or if people are moving around too quickly, but once he realizes that she's missing out on headbutts, pets and cuddles he will be back.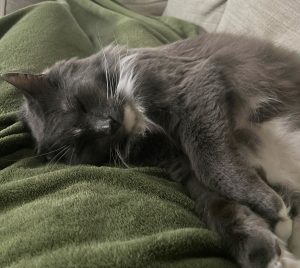 Linus has successfully lived with other cats and with dogs in the past, but he doesn't seem to get along with every other cat he meets (it seems to be personality dependent.) He would be happy living as the only pet in the home too.
If you would like to learn more about this lovely boy and his needs, please contact us at victoriapets@gmail.com. He will make a wonderful addition to his new family.