Hershey and his siblings came to us from a home where there were so many cats that they were not receiving proper care or attention. At first, they were very under-socialized but our wonderful team of fosters have been able to work with them over the last few months to help them learn trust in people. They are ready to go to their forever homes, but it will be important for them to find just the right homes that will allow them to continue to come out of their shells and flourish into wonderful kitties.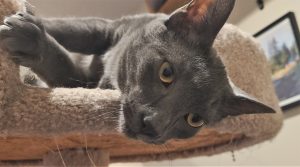 Since these kittens came from a home with a lot of cats, and have grown up in foster homes where friendly cats helped in their socialization, they are much more comfortable being around friendly cats than being on their own. Therefore, must go to homes where there are established, friendly cats that can take them under their wings. They need adult-only homes and at this time are not comfortable with dogs. The kittens are about 6m old and have been fixed.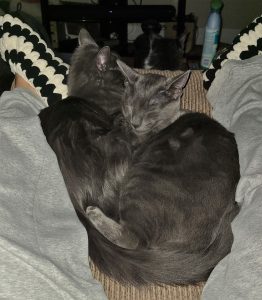 Once he is comfortable with you, Hershey will sit quietly with you while you watch tv and loves to snuggle on your legs. As soon as he trusts you, he is a bit of an attention hog and he makes the cutest chirps when he's happy. He will roll and purr very loudly around your feet while you are getting his dinner ready. Hershey was incredibly shy when he first arrived in foster care and would shake when touched. He has come very far and although it may take a little while for him to warm up to a new family, he will be your bestie once he figures out that you're not scary!
Hershey absolutely adores his laser toy and will run so fast back and forth that you have to stop to give him a break. He's quite playful and will enjoy having some young cats to play and wrestle with.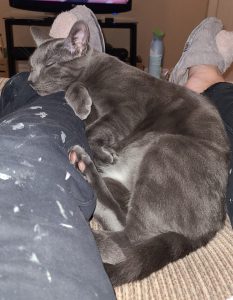 If you have a quiet home with existing felines, and you are able to provide patience and love to a guy like Hershey, please visit https://victoriapets.ca/adoption-process/ for info on our adoption process and for a copy of the adoption application.
Please note that the kittens are in foster care in Cobble Hill. Potential adopters will need to visit them in their foster home there.