This adorable face belongs to Dandelion. He and his siblings came to us from a loving family that just wanted to ensure they went to the best homes possible. They grew up in a home with other cats, dogs, and children and were well socialized and healthy. They are adorable little kitties and will make wonderful additions to their new family.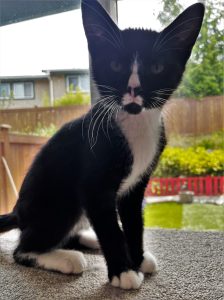 Dandelion is strong and brave boy who has really long legs. He is not shy and likes being around other cats. Dandelion is getting more used to dogs so will be ok in a home with a cat-savvy dog that he can be introduced to properly. He is always very happy to see his foster mom and runs up to her every time she is near by. Dandelion loves to play with toys and will chase anything that you dangle in front of him. He is really hoping for a home where there is another cat, or cats, that he came curl up with and become friends with. Dandelion will make a wonderful little companion to his new family.
If you are interested in Dandelion or one of his siblings, please visit https://victoriapets.ca/adoption-process/ for info about our adoption process and to fill out an online application.