Meet Creamsicle. This little guy is a teeny tiny kitty who is looking for a home with some gentle feline friends. Poor Creamsicle came from a difficult past that caused a traumatic kittenhood. His owner was incarcerated for violent acts, so after growing up in a volatile household, Creamsicle found himself on the streets fending for himself when he was only 6 months old. Fortunately, he was rescued by some wonderful folks at another organization and transferred to VPAS so that we could find him the perfect family. He is now approx 9-10 months old and is ready for a home of his own.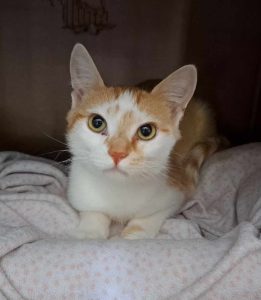 When Creamsicle first came into our care, he was very shut down. He was afraid to make eye contact and he spent most of his time trying to hide. Although he's still a shy guy, he has really come a long way and now thinks that people who offer head rubs are pretty great. It will take him some time to get used to a new home and a new person, but once he is comfortable with you, he will be a really sweet boy. He will not be the right fit for a first time cat owner, and will rely on someone with experience to help him settle into a new home.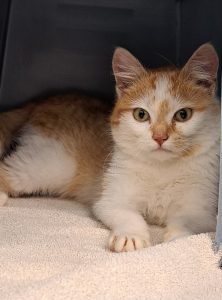 While Creamsicle loves to play, overall he's a fairly quiet cat. He will sometimes cry for food if he's hungry, but he usually only does it if the other cats start. He is fairly low key and likes to watch the comings and goings of the house from his hammock. Creamsicle will do best in a quiet home with a relaxed vibe.
Due to his past, Creamsicle finds comfort in other cats. He does like to play sometimes, but more often than not he plays alone. He is more into cuddling than wrestling. He would do well with a quiet cat, perhaps one that's a bit older, that will still play on occasion but that mostly just wants to be his friend. Unfortunately, Creamsicle is not comfortable with children, so needs an adult only home. At this time, he is not comfortable with dogs.
If you'd like to apply to adopt Creamsicle, please visit https://victoriapets.ca/adoption-process/ for information regarding our adoption process, and to find an online copy of our adoption application. At this time, we are only considering applications from southern Vancouver Island or the Gulf Islands for Creamsicle.