This longhaired beauty is Chickpea. She was rescued from a hoarding situation and is estimated to be about 7 months old. She is loving, affectionate, and oh so sweet. Chickpea is looking for a home where there are other cats that she can be friends with, and where she'll get lots of attention. She is used to being in a home with lots of other cats and is right at home with them around. She isn't too high energy or playful, but she likes to hang out with the other cats and cuddle with them. She also really enjoys affection from her people and has a great purr.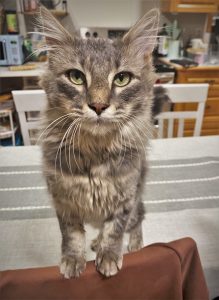 We haven't seen Chickpea around children or dogs since being in our care, but she is wonderful with other cats and has loved all of the people she's met.
Chickpea has long hair so will need a home with someone who is willing to brush her regularly. She's not really used to being brushed but she loves affection and being pet, and being brushed really isn't all that different, so she'll get used to it soon.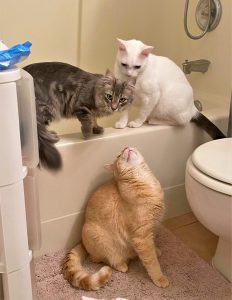 This little girl will make a great addition to her new family. If you would like to meet Chickpea, please visit https://victoriapets.ca/adoption-process/ to find our adoption process and to submit an application.