Barbie & Skipper are a beautiful pair of calico kittens who are looking for a home together. They aren't quite ready yet, but will be ready to go to their new homes after they are spayed at the end of November. We are accepting applications for them now.
These two girls absolutely love each other! They eat, sleep, and greet together at all times. They playing together day and night with little abandon, and they sometimes play with the cat-savvy dog in their foster home too.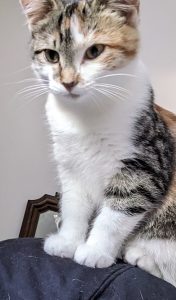 Barbie (the shorthaired calico tabby) is the more confident of the two girls, and she's absolutely a shoulder/lap cat. She enjoys perching on her foster mom's should like a parrot and watching what's going on from up high. She will curl up with her foster mom in whatever position she's sitting or laying in. Skipper (the longhaired calico) is less confident than her sister, but she will follow Barbie's lead with most things. She rarely sleeps on top of her mom and isn't much of a shoulder percher, but she will sleep close by and flop over exposing her belly for pets. Both girls purr like chainsaws once they get to know you!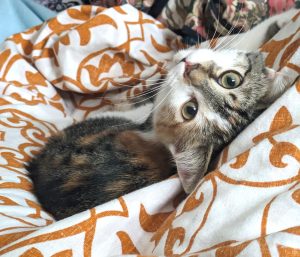 Skipper has a long, fluffy coat so she needs a home with someone who will be willing to brush her regularly. These two are looking for an adult-only home where they will be doted on. It's possible that they may settle into a home with well behaved dogs; they have had a few small exposures to a couple of trusted canine friends, and they have been growing in curiosity and lessening in fear. During their time with us, we have not seen them around other cats.
If you'd like to adopt this beautiful pair of kittens, please visit https://victoriapets.ca/adoption-process/ to find information about our adoption process and to find a copy of our online application.