Anni and Agentha (aka Aggie) are sisters and they're looking for a very special home, together. They have some minor medical needs that are going to need managing, so we are looking for a foster-to-adopt home for them. For the time being while the vets provide treatment and try to determine what their future needs will be, the rescue will be covering the costs of their medical care. However, ultimately their new family will need to be able to take over the financial and physical aspects of their long-term care. We would prefer that rather than settling into a short-term foster home now and then getting adopted once they're all sorted out, that instead they go into a foster-to-adopt home now, so that they can start bonding with their new family while they're still fairly young.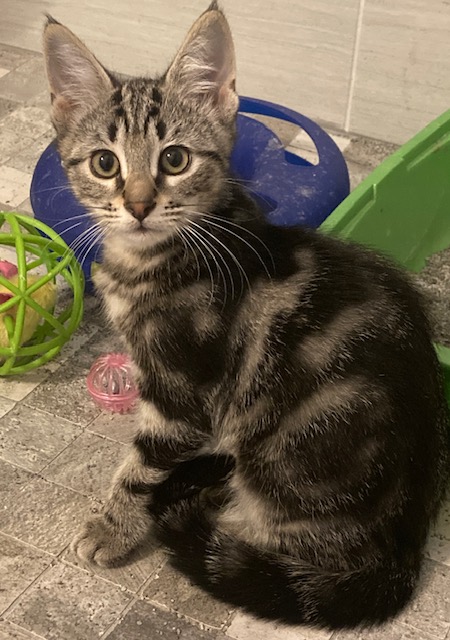 These girls came to us after being found as scared, feral kittens so they were very shy and unused to being handled at first. They have come a very long way in regard to their social skills and they're cuddly with the people they are familiar with, but they can still be a little bit shy when meeting new people. They are silly, playful, curious and independent girls once they are settled in. However, due to their background, they are nervous of loud sounds and fast movements so are not comfortable with children. They need an adult-only home that has a fairly laidback atmosphere. They will do well in a smaller footprint, such as an apartment or condo.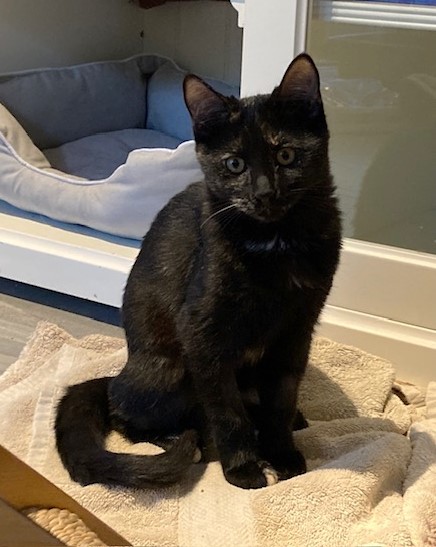 Despite being nervous of children, these two are great with other cats and cat-savvy dogs. They have both cats and dogs in their current foster home and they spend time playing and cuddling with them regularly. They would be very happy to go to a home with other pets, but they could also be in a home with just the two of them together.
When the girls were fairly young, the vet noticed that they had significant gingivitis in their gums. A little bit is normal when kittens are teething, but the degree that these two had was abnormal. After some investigation, they were both diagnosed with Hyperplastic Feline Juvenile Gingivitis. Aggie (the dark torti) has a mild case and Anni (the brown tabby) has a pretty bad case. This particular condition causes significant inflammation of the gums and it causes the gums to grow excessively. The treatment for this is daily oral health care, regular below-the-gum dental cleanings (which must be done by the veterinarian), and removal of excessive gum tissue as needed. Cats with this condition typically require a procedure done by the vet every few months for the first few years of their life. In many cases, cats will grow out of this condition around 2 years of age if it's managed properly while they're young.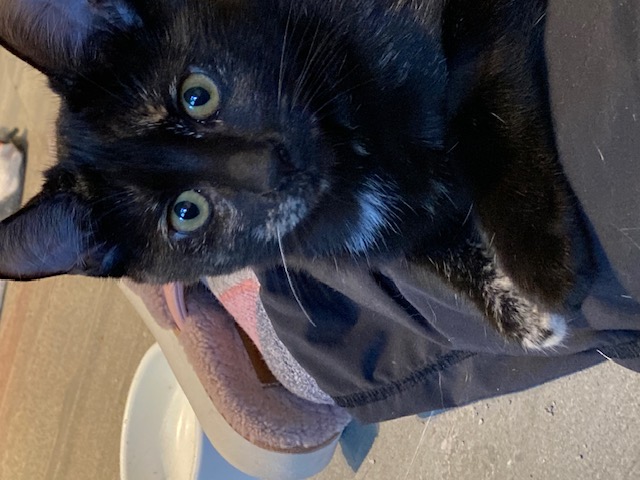 At VPAS, we have not had kitties with this condition before so this is a bit of a learning curve for us. We anticipate the kittens needing to stay in foster-to-adopt care for several months, but we're hoping that if we can find the right family for them that we can transition into an adoption once their condition has stabilized. Their new family must be willing to follow instructions provided by the vet about how to best manage their care, and must be in a financial position to eventually take over their care once their condition has stabilized. Since they will need to receive regular veterinary care during the course of the foster-to-adopt period, their foster-to-adopt family must live in the Victoria area and be able to get them to veterinary appointments in Royal Oak for the duration.
If you'd like to learn more about Anni & Aggie, please reach out to us at victoriapets@gmail.com. You can learn more about their condition at https://veterinarydentistry.net/hyperplastic-feline-juvenile-gingivitis/.