This cute-as-a-button little girl is Acorn. She came to us from another rescue organization after being found as a young, feral kitten. She is a very shy, quiet, sensitive girl who is looking for an experienced home where there are nice, friendly kitties to befriend her.
When meeting new people, Acorn is very uncertain. If you reach out and pet her, she quickly realizes that humans aren't so bad and she enjoys the affection, but she does not yet seek it out. What she really love, is being with other cats. Acorn likes to play with the other kitties in her foster home and can actually wrestle with the best of them. She would prefer to play gently with her friends, but she can wrestle when she needs to. She likes to have her own space to curl up in when she needs a break, but whenever Acorn sees the other cats she gets excited. Being around the other cats really helps Acorn to come out of her shell and be comfortable. Going to a home with existing, social cats is a must for Acorn.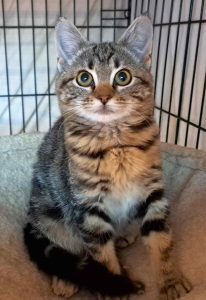 This little girl is shy and needs a quiet, adult-only home. She is not comfortable with children or dogs because they move to quickly and make loud sounds. She will do best with a single person or quiet couple who live a low-key lifestyle. Someone with previous experience working with shy kitties is important.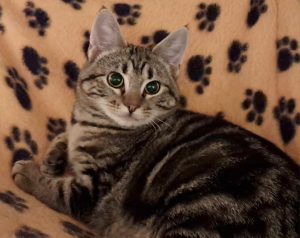 If you think that your home might be the right fit for Acorn, please contact us at victoriapets@gmail.com, or complete an adoption application.